We Australians have enjoyed a lovely long summer that rolled on well into autumn. Alas, winter is well and truly upon us. As the sky takes on a crisper winter colour, the days become shorter and the nights grow cold.
Now we look at some top tips to cosy up and create Winter interior decorating in preparation for the extra time we're bound to spend indoors.
1. Winter interior decorating – velvet and jewels
Preparing for the cooler months can include changing bedding to heavier weights and darker colours, pulling out the cosy throws for beds and sofas, stocking the woodpile, swapping our light, and adding bright homewares for the dark textures.
With a quick look at Pinterest or Instagram you'll find so much inspiration to achieve a warmer, cosier feel to your home interior styles. The trend this winter is to bring depth and tone to your home  with colours like petrol and teal along with jewel tones (ruby, sapphire and emerald, to name a few).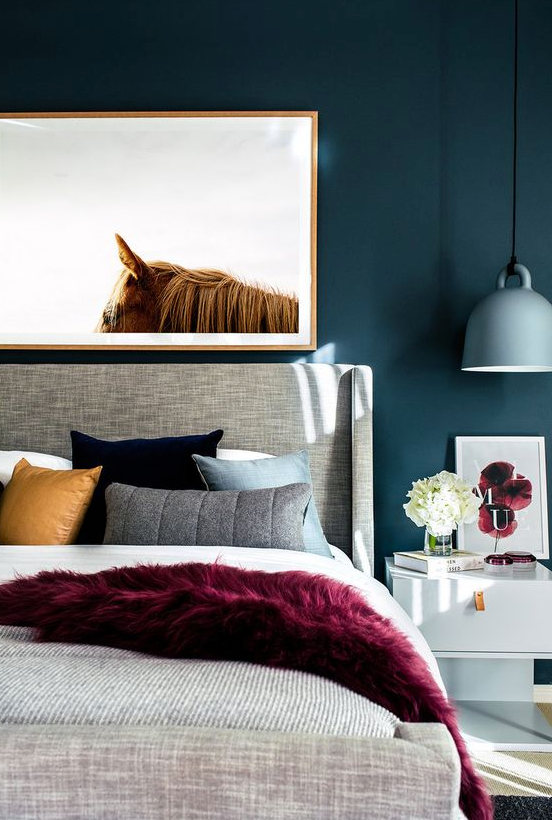 Image reference
Dark painted walls offer a dramatic backdrop to dusty nude furnishings, tan coloured leather and on-trend brass accessories and lighting. Bringing in jewel coloured velvets provides winter tones as well as much needed texture.
These darker tones are found throughout the natural landscape and bringing them into the home over the cooler months provides a warm and welcoming space. It sure seems to be quite a change from the light, crisp neutral tones of the contemporary interior design styles. Scandi, has swept the globe in recent years, but don't be afraid to embrace a change. Dark interiors express drama, warmth, cosiness and love.
2. Winter Blues
As well as being a great focal point for your new, darker interior, these warm colour tones can help ward off the winter blues. Find out which colours will work best for you, dress your room in your favourite hues and don't let winter dull you, or your space.

So after a stark, Scandinavian summer, there's no reason to resist slipping into a warm, blue-toned winter, accented with your favourite colours.
3. A touch of Lagom
Following the Scandinavian interior design craze, recently the Danish term 'hygge' (pronounced 'hue-gah') has become commonly used. Hygge is the Danish ritual of enjoying the simple pleasures in life – friends, family, graciousness. So as we farewell a marvellous summer and settle in for the cooler season, the Swedish term 'lagom' seems appropriate to share – not too little; not too much. Just right.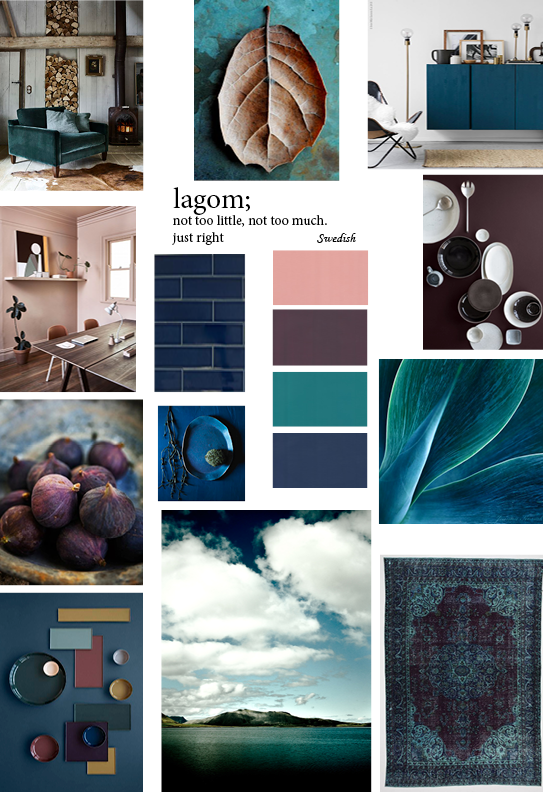 Not sure where to start? Why not get inspiration for creating winter master bedroom designs to keep you warm and cosy until Spring.