Choosing the wrong sofa can be a costly mistake, but with so many sofa styles out there it can be quite confusing – ideally you want a piece that not only looks great, but works well for your personal situation. Generally, leather sofas are easier to clean and harder wearing than fabric sofas. They look great in contemporary shapes, in spaces that are decorated in a Scandi-style or with an industrial feel, but don't be afraid to choose leather sofa's in more classic shapes if your home is decorated in a more classic interior design style. You can even use more classic sofa styles in contemporary interior design – just be clever with your fabric and leg choices.
Sofa Styles and Shapes Explained
Sectional Sofa
Sectional sofas are the best choice for versatility. Commonly made up of either 3 or 5 pieces (although you can go even bigger if required) and in an L or U shape, the sectional sofa will ideally come with connectors between each section so that you can 'fix' your chosen shape in place. Looks great in an industrial style space such as a warehouse apartment or a home with exposed brick walls and clean lines.
Chesterfield Sofa
The Chesterfield sofa style is characterised by tufted leather, rolled arms which are the same height as the back, and no separate back cushions. Originally thought to have first been commissioned by the Earl of Chesterfield in the late 1600's as 'something a gentleman can sit on without wrinkling his clothing', this classic style has been reimagined over the centuries but remains extremely popular to this day. Will give a 'gentleman's club' feel to your space.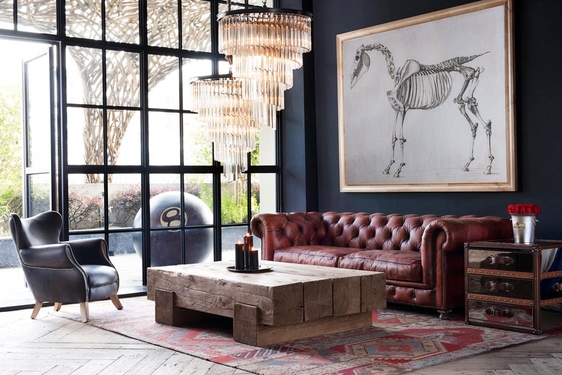 Camelback Sofa
Just like a camel, this traditional style of sofa generally has either 1 or 2 'humps' on the back. Originally a Chippendale creation from the 18th Century, again this elegant sofa has been reimagined time and again, with the use of different fabrics and foot styles bringing it into the 21st Century.

English Roll-arm Sofa
This is one of the most comfortable sofa styles around, with plush fixed back cushions and a very deep seat perfect for sinking into. Low arms make it great for naps. Give it a contemporary twist by adding straight timber or metal legs in place of the traditional turned wood legs it is known for.

Tuxedo Sofa
If you want to bring a classic modernism and sense of luxury to your space, look no further than the Tuxedo sofa. With a box-like clean shape and streamlined look, this sofa takes it's name from the Tuxedo Park area of New York. Originating in the 1920's, this sofa is one of the pieces that is thought to have heralded in the modern furniture era. Tufted backs are common with this one.

Lawson Sofa
Thought to be designed at the turn of last century for businessman Thomas Lawson, who was tired of the fussy styles from the Victorian era that were still around at the time. It's boxed shape, tailored look and low arms give it a simple but modern feel. Originally came with 3 back and 3 seat cushions, but this can be more bespoke depending on your requirements.

Mid Century Modern Sofa
Generally characterised by its clean lines, tufted back and cushions, and hairpin style slanted legs, this is the perfect sofa choice if you want to add a slightly retro feel to your space. Different variations work well in Scandi style homes.

Contemporary Sofa
This style is a bit harder to pin down, as it basically covers anything that is not rooted to specific periods of the past, instead looking mainly to the here and now, but as a general rule, it is neither fussy nor overdone. Look for simple sleep lines, without any intricate detail. The use of metal – either in visible frames or legs – is commonplace.
Other Considerations when Choosing your Sofa
SIZE: Sofas with visible legs add a sense of space to smaller rooms. Consider the scale of the other items in your space. Make sure you consider how much space you need around your sofa in order to comfortable walk around the room. How many of you need to use the sofa? Will you purely be sitting on the sofa or laying stretched out? What size is the door or opening through which the sofa has to enter the home/room? Consider all of this.
AESTHETIC: Consider the styles we have discussed above – which will go with your room? What is your own personal style? Which style best fits your requirements – do you want comfort over aesthetics or a balance of the two? These factors will help you choose the right style.
COMFORT: Just like a mattress, sofa's come with different types and amounts of springs and cushions. Some less expensive sofas don't have any springs at all. Do you prefer foam filled cushions to feather or a combination of both? What will the sofa predominately be used for? The sofa is often the households best friend- invest in it!