I was just sitting in a café reading a magazine, there was an article about Designbx and I thought this could be something that could be of interest to me. I hadn't had any experience with interior design and designers, and I probably thought it would be too expensive and not something I would ever do. I went online and had a look at what was on offer and it looked really easy. I work full time and I thought well this is something that would actually fit in with my time schedule.

Initially it was simply looking at pictures and choosing what you liked and didn't like or filling out some questionnaires about what perfumes you like or clothes you like and what colours you like and I found that a really interesting process - it came back as Modern Eclectic which surprised me because it just wasn't what I expected. Knowing my style definitely helped the rest of the process because I knew exactly what I was looking for

Designers then pitched their ideas to me. They sent design boards which have pictures and colours and ideas and asking questions about how we like to live in this space. Once we had chosen our designer we started working on the floor plan, you know, exactly where we were going to put the furniture and what furniture we would have in the area.

We wanted to define areas because previously we sort of just had the furniture sitting around the room. Whereas now we feel like we are really sitting in a living area or the dining area.

We're really happy with the results. We could keep pieces we had that had sentimental value to us. It became a real combination of existing pieces and new pieces. That was actually really important. I have my grandmother's trolley that was sort of sitting just covered in things and its now more of a feature - and also a cabinet from my mother. Obviously, I love the desk, because I just wanted a little spot that was specifically mine. We really like this chair I'm sitting in as well: somewhere to sit and read.

We definitely made savings on the products we got through the personal shopper service. And it was great - not to have to go out and look at all the shops, it was done for you and then you were sent pictures and if you didn't like something it was never a problem they went back looking for something else. We were really particular about the chairs and lounges. We even had a chair brought to our house so that we could sit in it. So, you know, that's just fabulous service to receive.

I really enjoyed the creative process of creating a place for my husband and myself. I'd definitely say, you know, give it a go. It's really convenient and easy. You can sit at home in the evening, working on your floor plan or choosing furniture. You don't have to be out doing all the hard yards at the shops

It was really exceptional service. Nothing was ever a problem. We just felt really looked-after and that our space was important and that the end result was paramount to Designbx

It far exceeded our expectations!
Kim, Artamon, Lower North Shore, Sydney

"Our experience in our dealings with Designbx exceeded all expectations. Their design and service was excellent, they went out of their way to fit into our time schedules, they were very pleasant and helpful at all times, and we are delighted with the end result! We highly recommend them."
— Kim
A beautiful transformation: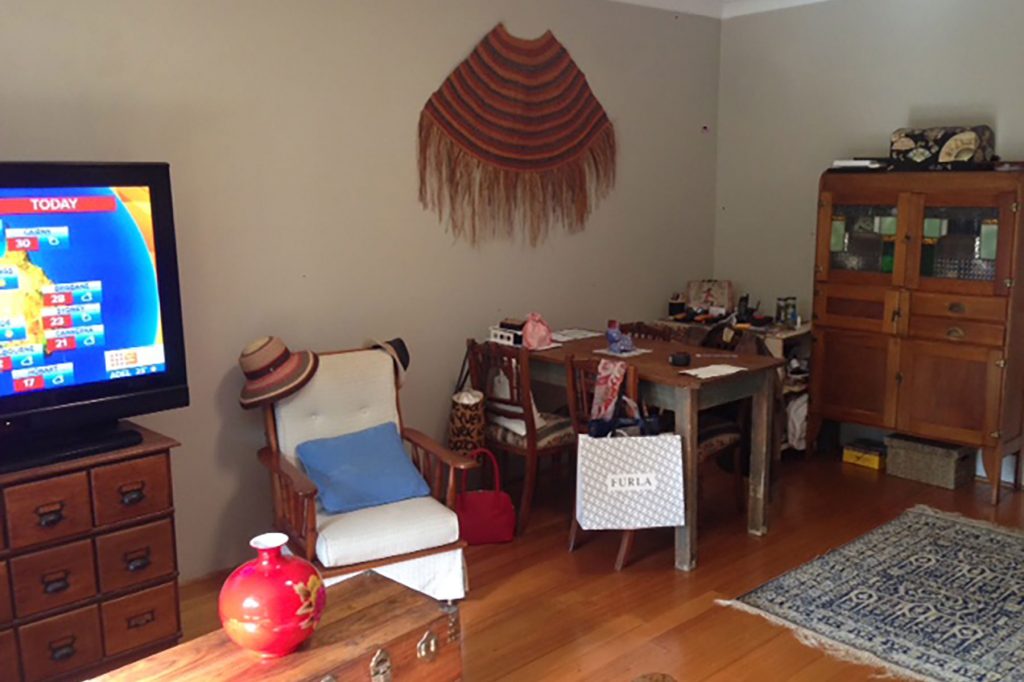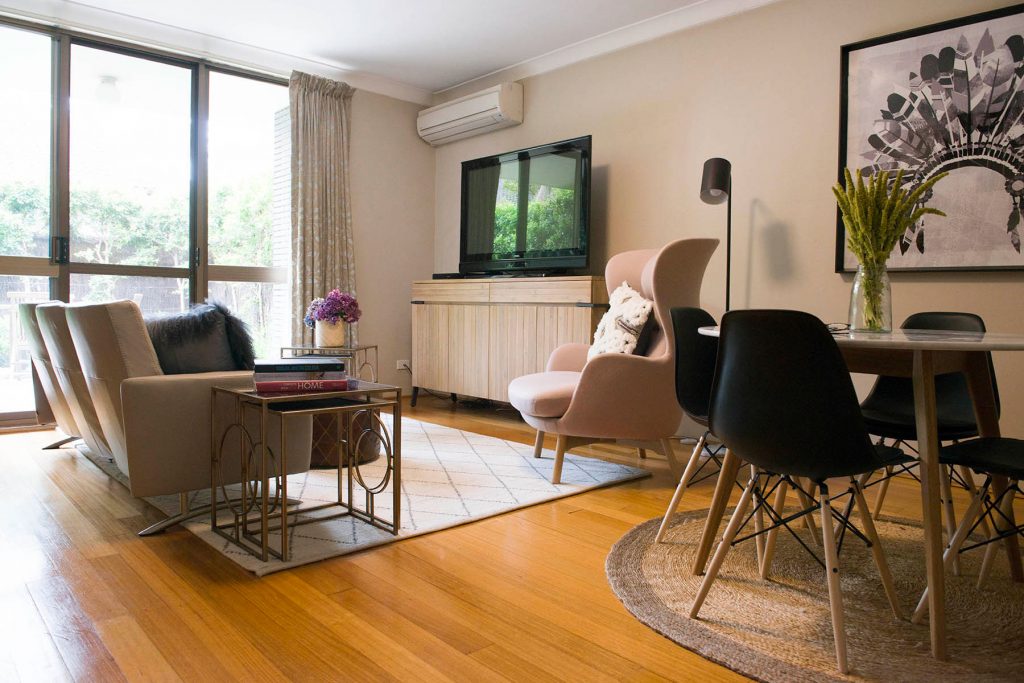 Before:
The space was a source of frustration for Kim who found it cluttered and filled with collected items that didn't seem to work well together. There was a lack purpose to the space. It needed designated areas without losing the positive elements that open-plan living provides. With so many interesting items of varying quality and style, it seemed difficult to decide on a style but the couple were determined to create an ordered and minimalist design.
After:
The styke solution was Eclectic, which succeeded in using seemingly dissimilar feature items, modern and antique, together in a single, cohesive design. Focusing on the creation of designated zones, their favourite designer used floor rugs, colour blocking and spatial planning to create dining, lounge and office areas without compromising space.
Project details:
| | |
| --- | --- |
| Budget | $8,000 - $11,999 |
| Location | Lower North Shore, Sydney |
| Styles | Modern Eclectic |
| Package | Open Plan - $499 |
| Designer | Kylie Monteleone |