Karn:
My name is Karn. I am a co-founder and CEO of a business called Hit100 we're a social business that empowers persons with disability to improve their health and well-being. We manufacture and deliver meals- healthy affordable convenient meals to people's homes. And we also have dieticians on staff. So we partner with people around their health goals and we support them along that journey.
Given the rapid growth we had particularly in the last 12 months we needed the space of our own. We were really fortunate to secure a fantastic space in the heart of King's Cross. And it needed some love. We found Designbx online. And we were also referred into Designbx through our networks.

From sending out a message saying 'Hey looking for help, to a really friendly phone call, to coming in to see this space and measuring it, to sitting and partnering on things that we might like and not like. We then very quickly got designs sent through and that allowed me to take that back to the team. Designbx giving us options and then eventually in a really short timeframe coming in and fitting out the space. It was actually really really convenient and for something that we'd certainly never done before as a business it made it quite enjoyable.

The brief was just that to make it welcoming to make it a space where we could collaborate together and to make it a space that was inviting for our team who were quite young and dynamic.
Designbx took the time to understand the culture of the business, to understand things that were important to us - like collaboration, like using the great bones of the space and the natural light we had, and it just made it really easy for Designbx to problem solve on our behalf and to make really proactive suggestions on our behalf.

We gave Designbx a rough indication of what the budget was and it was really clear communication from the beginning to the end around where the budget might be challenged or not. And I have to commend the team for being really creative in placing pieces of furniture. And they pretty much hit the budget which is unheard of.

We've got incredibly passionate hardworking talented individuals who want to come to work and work in a space that they feel excited to be in. And one that again promotes collaboration and allows them to work in a pretty flexible manner as well. So they were two key asks and just looking at the way the team use this space means that you guys did an outstanding job hitting the brief.

Kim:
I love this space. It's incredibly inviting and light and warm and I really like that we do have a few spaces that we can kind of work in. You know, the big open workspace where everyone is, is really nice because it gives that feeling of, you know, inclusiveness.

Karn:
The things we love about this space are the breakout space: the space immediately behind me where we've got couches, we've got laptop tables, we've got working tables where we can plug into big screens and that just allows the guys to move really freely through space whether they're on calls or working together and that's a highlight for me.

Kim:
Sometimes it's nice to be able to have an area that I can kind of have a bit of my own space to go and relax and talk to customers or clients on the phone. So having kind of this lounge or welcome area is really nice because it provides that balance. It's very casual which is nice but you still feel obviously that professional need of having an office to work in.

Karn:
The things I really liked about the Designbx experience was the contemporary approach to what could have been a frustrating and challenging thing for us to do.
The customer service was exceptional. Despite the fact that it was primarily an online experience…So it was friendly at every step of the way
It was convenient, surprisingly affordable, and fun.

We really enjoyed the experience such that we're really confident that as we move into the next space we'll be picking up the phone again to Designbx.

"The customer service was exceptional - despite the fact that it was primarily an online experience. It was convenient, surprisingly affordable, and fun."
— Karn, CEO Hit 100
From dream to reality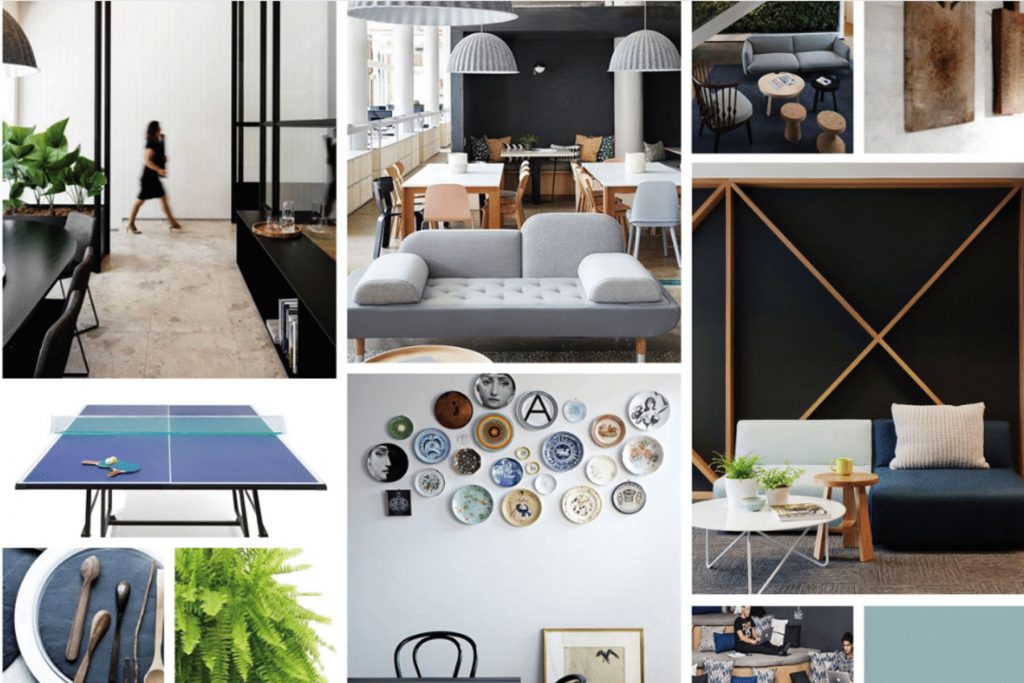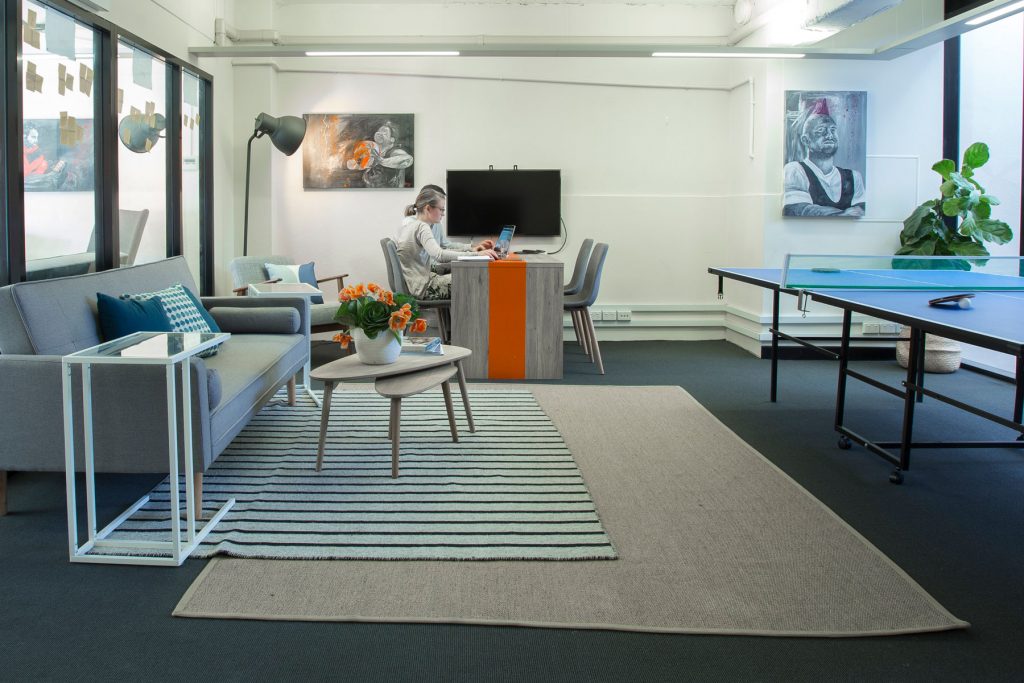 Before:
Hit 100 quickly outgrew its old address and found a great space in Kings Cross with loads of character and natural light. The challenge for this successful startup was the likelihood that they'd again need to expand. They required an energetic 'home away from home' for their valued staff but also had to be realistic with their budget and timelines given the prospect of another move. Although the space had plenty of potential, it required a more upbeat and vibrant atmosphere.
After:
The Hit 100 team's wish was granted: every morning they feel like they're walking into a home away from home. With no formal reception area, and work areas defined by design elements rather than barriers, the team has the freedom to use the space in a more innovative way. Designbx has ensured all items are removable and can conveniently slot into a new space. The colour scheme, which is drawn from the the Hit 100 branding, adds to the homely feel of the office. Commercial flooring has been covered with an oversized sisal rug and layered with smaller patterned rugs. Along with oversized lamps, this helps to define key seating areas. Tables with custom orange racing stripes are a great focal point for the room, and this detail works well with the stripes and tartan of soft furnishings. The bar table has been customised to fit the space, and the look of its strong black frame is reflected in the windows throughout the office. Finishing touches of fresh flowers and plants reinforce TOP 100's commitment to wellbeing, and enhances an office environment that it positive, fresh and upbeat.
Project details:
| | |
| --- | --- |
| Budget | $5,000 - $7999 |
| Location | Kings Cross, Sydney |
| Styles | Scandi, Vintage |
| Package | Commercial |
| Designer | Kerena Berry |