Hello, I'm James, I'm married to my wife Angie we live here in Mona Vale with my two boys, ages 13 and 10.
My wife and I bought this house about a year or so ago. It's in a great location here in Mona Vale near the beach. We wanted to live in a nicely designed beach style Hampton style house.
I really needed the people involved that could be experts and create the images and vision that was in my mind. So, when we came across Designbx it was just an ideal opportunity.
It just seemed to be a really simple process...they really understood the kind of theme that we wanted, that kind of beach style theme.
You can go look around all the furniture shops and show rooms but it's actually hard working out what you like in the first place - what are the colours you like, what works in the space you're in, how you are actually going to use the furniture that's in the space...we fed all of that information into Designbx so they could understand.
Then it's up to them, as the experts, to actually come up with the suggestions around what the furniture is going to be like, what the rugs and cushions need to be, what the wall colourings need to be, what the accessories are, and then they pull that all together and you get a design board. You also get a floor plan that lays out where that furniture is going to be placed. You have the ability to build that picture in your mind of what you're going to get.
What we've got now is an outcome that is stunning. I think it's incredibly stylish, yet it's incredibly comfortable and you know the on Saturday night, when you're sat watching the movie with the boys and the Maltesers are out, that you will actually really enjoy where you are. So not only does it look good it feels great.
I think the experience has been from a design perspective incredibly uplifting I think it's been convenient and we've achieved the brief of a stylish yet very functional home so it's great.
For me there was two real benefits that we got from going through the Personal Shopper service with Designbx. The first one, no doubt, was cost savings as we were able to get discounts on furniture that we can't get as a normal consumer. But the thing that's really important is that there's a massive convenience factor, someone's put it all together, someone's coordinating it for you and providing you with this package solution so not only does it cost you a little bit less than doing it yourself it's also an awful lot more convenient.
A lot of people don't actually understand what design can bring to a place, the ability of designers who really understand colours, textures, shapes, forms can transform a room and it doesn't have to be expensive...it's not, it's actually no more expensive than going out and choosing the furniture yourself but the outcome is just far better.
We sit back now and I look at this house and it makes me smile...whether I'm with the kids, with my wife enjoying a glass of wine out on the deck it's just a fantastic place to be in, really grateful to the team at Designbx for what they've done.
"Really enjoyed working with the team from Designbx. They are very responsive, knowledgeable and really care about the outcome. The fixed fee for design is great as you know what you are up for financially and then they worked really well with my wife and I on the budget we had. I highly recommend them to anyone looking to improve the look and feel of their house. Five stars!"
— James
From dream to reality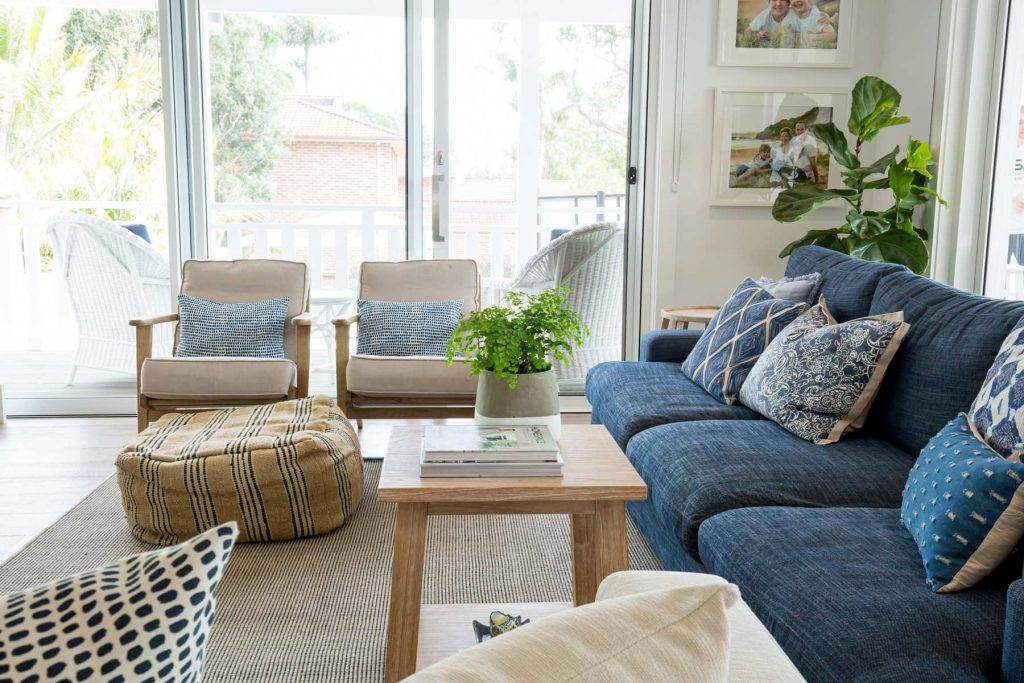 Before:
After renovating the exterior of this 1960s home, James was determined to create the perfect atmosphere and theme for its interior spaces.
After:
You'd be excused for believing you were inside a stylish Long Island, New York home when you stroll through these impressive Coastal-style interiors.
Project details:
| | |
| --- | --- |
| Budget | $20,000+ |
| Location | Mona Vale, Sydney |
| Styles | Coast |
| Package | Multiple Rooms |
| Designer | Kerena Berry |