So here is a sneak peak at what brings a smile to the faces of Designbx founders Kylie Pratt and Kerena Berry – when they're not busy styling for everyone else…
What makes Kylie feel at home
Jewellery. The bigger, the bolder, the better. I always lose expensive jewellery so this using more affordable 'on trend' accessories really helps my wallet! I love that I can change a whole outfit or look simply by adding some beautiful vibrant touches by way of jewellery. And while I may not have the 'body shape' for designer fashion, I can so easily add my unique touch with some big leopard earrings!
Shoes. High heels always make me feel great, and fit! The right shoes can make or break an outfit for me. Don't get me wrong, I'm all for comfortable flats as much as the next gal, but a pair of power heels can give you an instant shot of confidence.
Eyebrows and hair. You just can't have a good day with one and not the other. I was born in the 80s with a mop of curly strawberry blonde hair, and had I been in my prime partying years I would have been living the dream. Instead I'm happy if I can just get a brush through my locks most days – that is a good hair day for me!
Furnishings. I absolutely love natural raw textures like linen, leather and timber. They are home to me. Growing up in New Zealand I really do appreciate the natural textures that are reminiscent of the beautiful scenery I was surrounded by growing up. It's nostalgic for me, and creating a sense of nostalgia is such a powerful design tool.
TV and movies. Laughing out loud is my style. My husband and I formed our relationship on the basis of our love for TV and films from the often cringe-worthy era of the 80s. Anyone reading this who knows us well will be having a laugh-out-loud moment. We are a couple of dags who were made for each other!
Music. My go to is anything that has a story and makes me feel something. I'm pretty eclectic with my music taste pre-2000, but something about the stories told through music from the earlier generations – where people had to write letters and express their love in different ways – just gets me. I'm a hopeless romantic at heart and mostly end up crying to songs in the car.
Holiday destinations. I'm more of a "do it less often, but do it right" kind of girl. Boutique locations with lots of character and unique things to look at. It's nice to dream! The memories made on holidays with loved ones – you just can't buy that feeling.
Having a tidy desk. I'm really not sure if this is a style thing, but organisation is key to getting sh*t done for me. If I feel surrounded by mess and chaos, that's how my day will end up.
Showing up on time. This is definitely a work in progress, but being on time is super stylish in my eyes. I am renowned for being late, which I'm working on – my tardiness goes against every other personality trait I have, so people are always surprised!
Friends and family. Authentic, true to themselves and down-to-earth… that's my style and why I adore my friends and family. It does sound a bit cliché, but it's so important to surround yourself with people you love to spend time with and who make you feel empowered and positive. We're all so time poor that we need to be super conscious about who we spend our spare time with, and I choose to spend mine with positive and loving people.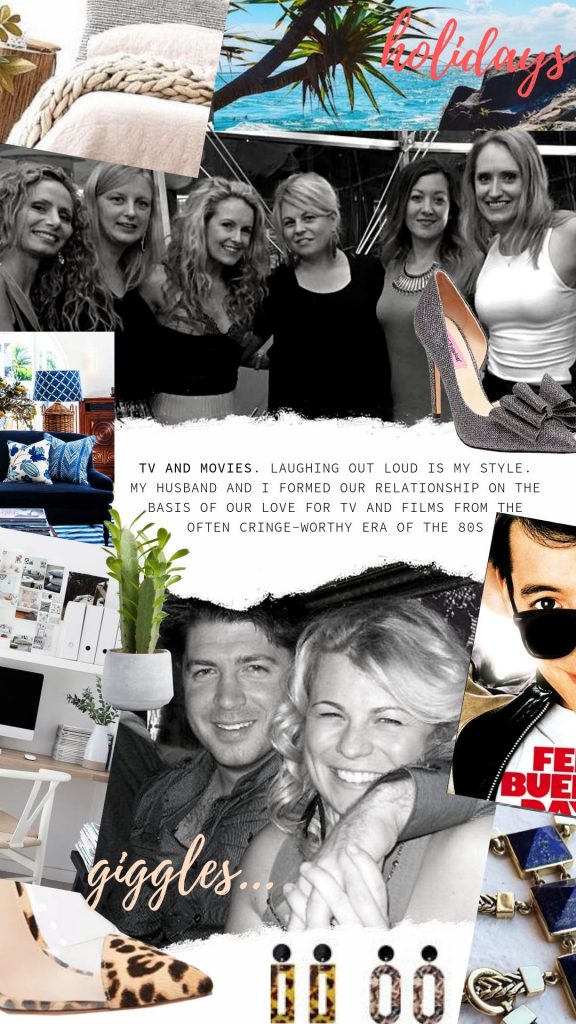 How Kerena adds some personality and pizazz to her everyday
Photographs. I have them absolutely everywhere because they remind me of all the special moments and priceless people in my life.
Handbags and shoes. These are a huge weakness of mine. They are those finishing touches that just ooze personal style. My absolute favourite bag is the glorious Valentino I splurged on during a trip to New York to celebrate a dear friend's 40th birthday. Every time I pick it up I'm reminded of the amazing time we had together – some possessions just have a way of bringing back precious memories. Similarly, but at the other end of the spectrum, is the $5 vintage leather bag I uncovered at Vinnies about 15 years ago. I cost me next-to-nothing but has accompanied me on so many adventures. My favourite shoes for comfort are my Superga platform joggers; for a bit of style punch I always reach for my suede orange tassel heels; and for an in-between occasion it's always the Valentino rockstudded flats. I could go on….
Vaporisors. I have two in the house and I always have essential oils steaming away. My favourite scents at the moment are from Anjali – "Lady Indira" & "Lemon Myrtle". Familiar and beautiful aromas are such an underrated element of design – they inspire memories, emotions and in my case create a sense of calm in the home.
Fashion. I have a very eclectic fashion sense – forever torn between my inner Cairns hippie heart; my unrequited rockstar dreams; the Northern Beaches casual surf chick; and a bit of a show-pony glitter fetish! Some of my favourite brands are Chasing Unicorns, Stevie May, Ministry of Style, Sass & Bide, Deus Ex Machina, Bali Trader (I love their custom design boots), Bec and Bridge… again, I could go on!
Flowers and plants. I always need one or both of these elements in and around my space; home, office, even my car (I place a fresh lavender sprig from the garden every morning in the air vents to help calm us all during the whirlwind of school drop offs). I have many plants in our family home and succulents at the office, as they're hardy enough to survive when we're out on shoots and working with clients.
Artwork. Studying art originally, I have a real appreciation for people who delve into such raw self-expression. I've collected art for as long as I can remember; street art as I backpacked around the world, and slowly building a collection of artists that I have admired for years. I call them my 'Retirement Fund'… Let's be honest, it's never really going to fund my latter years, but it helps ease my conscience! I'm especially partial to photographic art.
Music. From the moment my head leaves the pillow to the moment it hits it again, I have music around me. I stopped TV with the children when they were young so it has filled a very big gap. It can turn any of our moods around in second and we all have a favourite tune, style and song that pulls us out of a funk and has us giggling in seconds. I couldn't possibly make a top list of my favourite tunes, because again, my choices are eclectic – from Dolly Parton (Jolene), to Morcheeba (World Looking In), to Kings of Leon (Sex on Fire).
Food and drink. I just LOVE eating, drinking and entertaining! I'm a total foodie and am also partial to a marrying vino. I'm as white, freckled and stereotypically Aussie as they come, but my taste buds are very European.
Friends and family. I have lived away from my family since I was 16. And although they have often been far away, they hold such a precious piece of my heart. Having this distance from my relatives has in many ways meant my friends have become my family, and boy do I have a fabulous bunch around me! I have been so blessed to meet and build such gorgeous and inspiring friendships over my life, and I am forever grateful and will do anything to show love and support to those around me.
Babies. Mine and everyone else's! I always wanted to be a mum – I was a total baby snatcher from as early as I can remember, and still am. By 10 years of age I was the local babysitter and could have four or more children in my care on any one night. I was in heaven! I am now a mum to two gorgeous little humans, and despite all the confronting moments it brings it is truly the most rewarding part of my life and every day. Amelia is eight and Hugo is five. There isn't a day goes by when we don't laugh, sing, banter and try each others' patience. But mostly we just love each other with such depth that becoming a mum has been a soul-changing chapter of my life.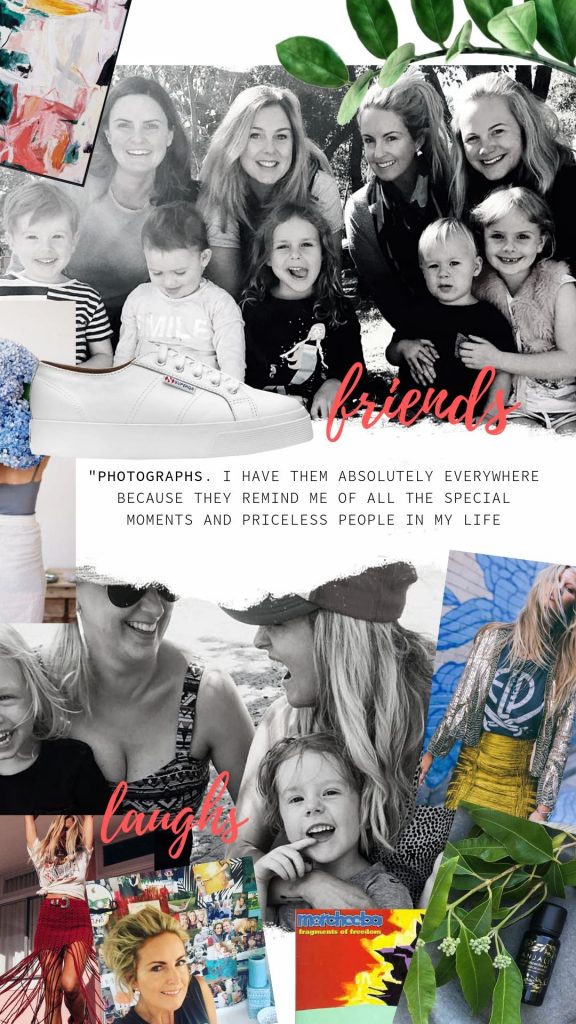 ---