Interior design with pets in mind doesn't have to mean clutter and chaos.
Aussies are renowned for enjoying the company of pets, and we're now spending more time with our furry, feathered and fishy friends than ever before. Let us show you how interior design for pets can be sleek, sophisticated and in keeping with your style aesthetic.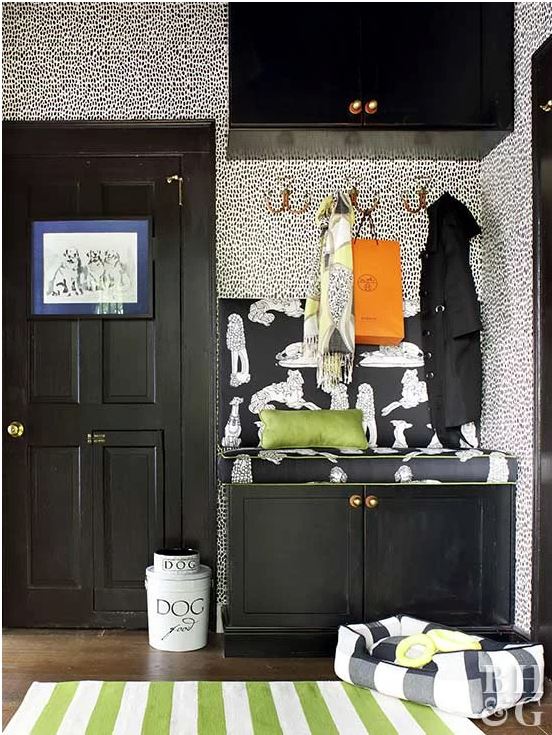 Image Source: Better Homes and Gardens
'Every man and his dog' are currently self-isolating thanks to COVID-19. In fact, levels of pet ownership and adoption have skyrocketed thanks to people spending extended periods of time at home. This means a sudden need to ensure our homes are set up to accommodate ourselves and the pets we love.
Many clients ask us to consider their pets when we compose our designs. And this is set to become more and more common. In fact, there are some amazing techniques, products and solutions that can help you create a beautiful space for you and your fur babies where everyone can comfortably coexist.
Space and Scale
Planning your space is key to seamless interior design with pets in mind. Think about what access you want your furry friends to have around the house. Are you a "no pets on the couch/bed" kind of home? Or more relaxed about who you cosy up with on a cold winter night? These kinds of boundaries will help you design your space accordingly. For example, will your pet's bed be part of the bedroom, hidden away in the laundry, or do you need to integrate it into a living area so it's safe and cosy for them, and not disruptive to you – either in terms of location or style. 
Thankfully there are a lot of super stylish pet beds and design ideas you can use to repurpose existing spaces in the home. If you have a staircase, a great option is transforming the area under the stairs into a pet-friendly zone. These spaces are often small, warm and dark, which is the perfect combination for some serious snuggling. We've seen and created some great solutions for clients, including under-the-stairs bed boudoirs, and even transforming laundry cupboards into cute kitty hideaways.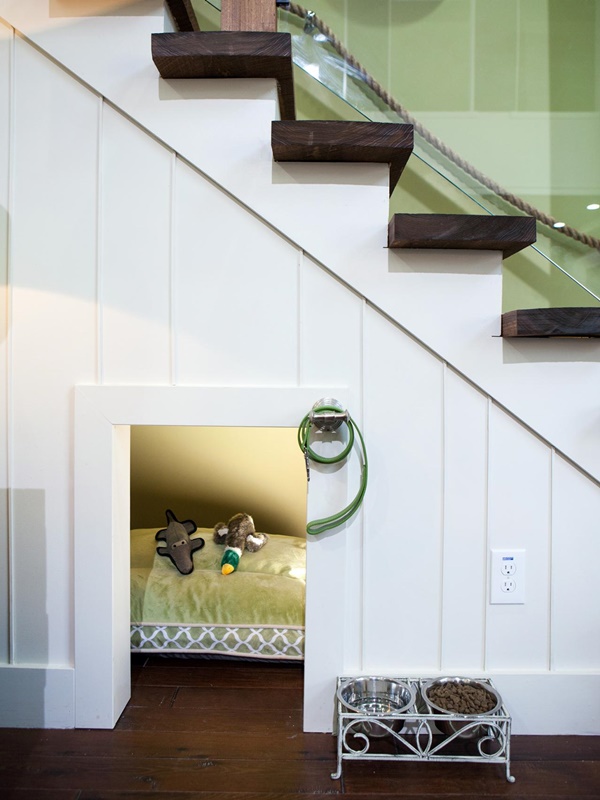 Image Source: Tail and Fur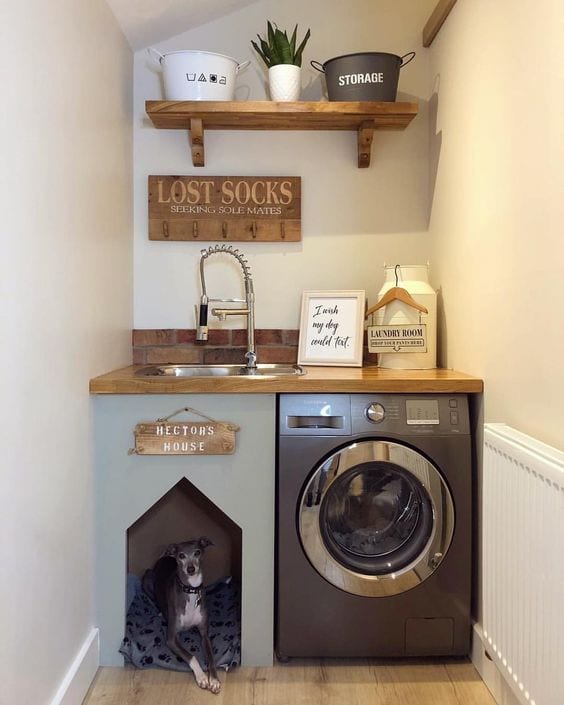 Image Source: Airtasker
It's also important to ensure any pet additions to your home are in line with the scale of your living arrangements. For example, if you have a small apartment we wouldn't recommend a multi-storey scratching pole. It will look out of place and dwarf your other furniture, as opposed to complementing, or even disappearing into, the surroundings.
Materials are Key
Stain-resistant and hard-wearing materials are key when it comes to interior design with pets in mind. The last thing you want is Fido making a doo-doo on your new Oriental rug. Materials that are easy to wipe clean, scratch and odour resistant and stain-proof will be your saving grace if and when an accident happens. (This is especially important if you're trying to toilet train a puppy or kitten!)
In terms of natural fibres, think leather, quality linens and wool. The key is fibre construction – the tighter the fibres, the more resistant it will be to stains and odours. If you prefer to opt for synthetic materials, Nylon, Olefin, and Acrylic are also good choices. But our best tip is to make sure you invest in protective measures like scotch guarding and using semi-gloss wall paint to extend the life of your soft furnishings and to ensure any dirty marks are easily removed – Selleys Sugar Soap Wipes from Bunnings are great for this! It's also a good idea to opt for hard surface floors (like tiles or floorboards). But when it comes to carpet and rugs, choose a shade similar to that of your furry friend so that shedding isn't so obvious between vacuums. 
Material choices are also key when you think about storage – as pet accessories often come with a range of odours. Natural fibres are always best – they breathe and won't build up as many nasty smells or bacteria as synthetic fibres. You should also consider items that are easy to clean to help keep the bugs and smells at bay.
Designbx Co-Founder Kylie has two fur babies at home
"A great tip if you are allowing your furry friends to be sofa enthusiasts with you and don't want to have to move around soft furnishings (such as cushions and throws)  due to dog fur, use quality linen as the fur doesn't stick".  Try Eadie Lifestyle for soft furnishings.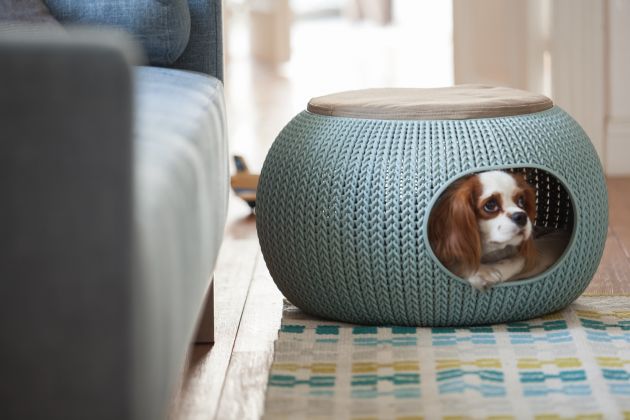 Image Source: Pet House Superstore
Storage Solutions
Like us, pets can come with a lot of "stuff". Toys, food, leashes, grooming supplies, those adorable little jackets they wear in the winter – check out this funky range that Country Road have just launched… between the necessary items you need for your pet and the extras we tend to accumulate, storage is key when designing with pets in mind. 
When organising your space you need to think about two factors above all else: Function and style. Simple solutions are often the best. Think hooks inside your cupboards to store small items like leashes, or small baskets for those random bits and pieces. You could even have a designated pet drawer in the kitchen or hallway where everything is stowed neatly away. For items your companion requires more often – like toys – a good solution is a stylish basket or bin that will blend with your surrounding furniture.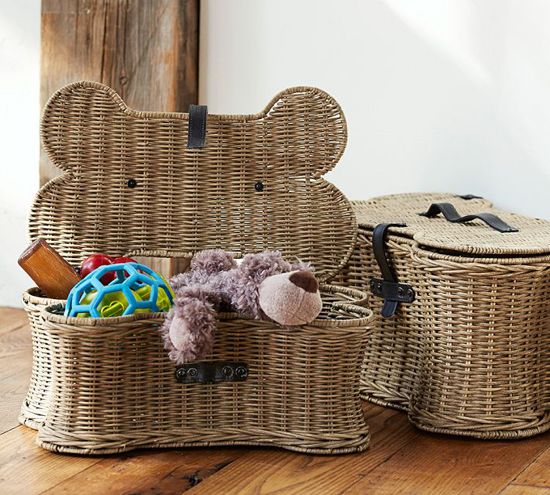 Image Source: Digs Digs
Feeding and Playtime
Feeding and watering solutions are as diverse as our furry friends. From dry to wet food, messy bird seed, having a constant supply of fresh drinking water. But having messy pet bowls in the middle of the kitchen is anything but sleek and stylish. Using items that are the same colours and textures as your home style is key to ensure they blend into the space.
Thankfully there are a number of stylish solutions on the market that will match to your colour scheme and requirements. Head to your local pet shop, or even seek out some cool and unique designs at your local craft markets. If your design style is more eclectic and vintage than sleek and minimalist, op shops are also a great option. Who knows, you might even find some pre-loved china to really give your furry friend the royal treatment. 
When it comes to toys, again, blend is your friend. Choose colours and textures that match or complement your style. If you have a cat and you prefer your furniture clawmark-free (hello everyone), a scratching post is an absolute must. But never fear, these items have come a long way in terms of design, so you can offer kitty a scratching solution while still maintaining your sense of style.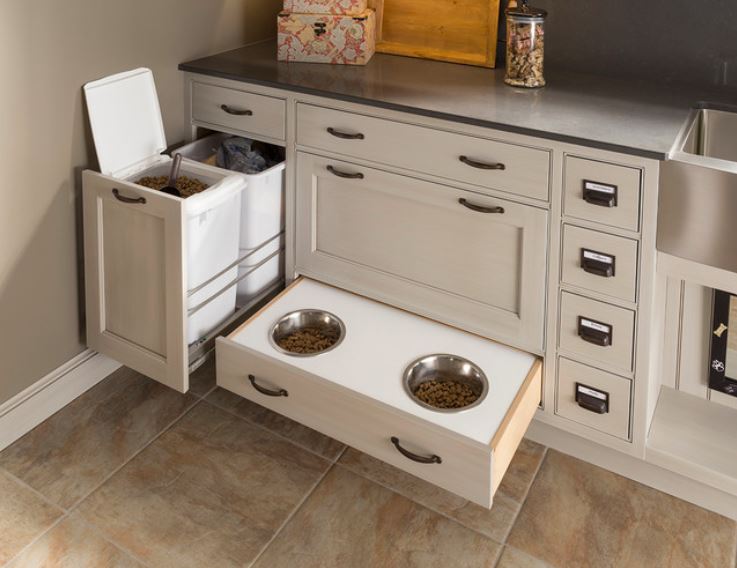 Image Source: Houzz
Toilet Time
Litter trays… It's the first rule of real estate here: Location, location, location. No one wants to see and smell the contents of a kitty litter tray as soon as they enter a home. So short of popping the tray in the laundry or a bathroom not frequented by guests, there are actually some very clever 'hidden litter boxes' on the market. And by giving kitty some privacy you can also hide away the mess and odour. 
As for dogs, a doggy door is a good idea so your canine companion can relieve themselves whenever required (and away from your newly mopped floorboards). Dog doors have also come a long way from the plastic flaps of the past. Today there are stylish options you can easily incorporate into any home design or style aesthetic.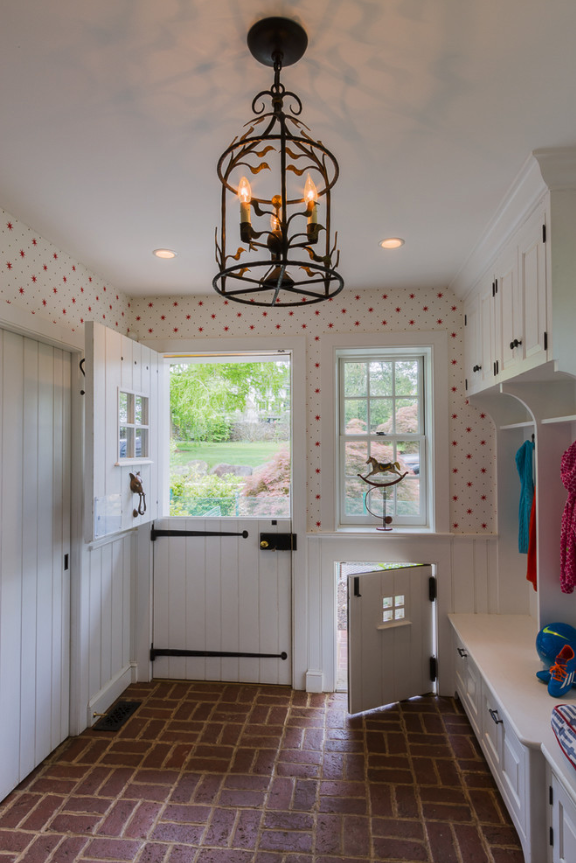 Image Source: Hey DJ Angles
The key with any interior design with pets in mind is to blend function with style. You want the item to blend in with your existing colour palette and layout, without taking away from its core purpose – making your pet comfortable and happy.
We hope our tips prove helpful and that you continue to enjoy quality time with your pets at home. We'd love to see some pictures of your pet-friendly designs and styling solutions. Follow us on social and tag us in your posts #designbx