We have been living in our house for almost a year now and I feel like we had all the big ticket items… but we needed the extra bits to the house to make it feel special. Feel like a proper home.

We had six rooms done by Designbx. For us, the play room was probably the biggest thing that we really wanted to transform because it was a blank canvas. I knew that I didn't have the skills to sort of you know create something in my house that I really wanted and so I needed to get some expert help.
I found Designbx just through a Google search. I think it was interior designers online. I found a few different interior designers. But what Designbx offered in terms of the whole package really drew us.

Initially we did the style quiz on the Designbx website and it sort of gave us an idea of what type of style we liked… we had a few different interior designers who actually submitted their design boards for us and we got to choose which one we liked the most. So there was definitely one that stood out for us. We ended up with a really lovely design for our house…given where we live being near the beach there was sort of earthy beach tones, water, which we really loved but also there was a bit of an extension to that in terms of a playful element.

We loved pretty much every single item that Designbx put in for us. Everything looked fantastic and it really worked with our lifestyle. However in our playroom there were some items in here that we actually really loved most and one was the swinging chair, which is an amazing little fun play thing for the kids.
We've got some great little tubs which are tables for the kids to play on but they're also fabulous storage items so we can pack all of our toys away.

The Personal Shopper service is really good - having a personal shopper who understood our brief and what we needed and then could put that together that was excellent because they've got a relationship with the suppliers I believe that there's some great discounts.

One day they came in and brought all of the items with them, unpacked everything, installed everything and left and took all the extra packaging with them. And so I came back home one day from work…and it was just brilliant to see how the house had transformed. We went from one room to the next and you know it was just like it was our birthday and we were getting all these presents and it was all done for us and it was a really exciting experience actually. We really enjoyed it.

Designbx was cost effective, easy, quick and with amazing results.
"Designbx was cost effective, easy, quick and with amazing results"
— Corinna
A beautiful transformation: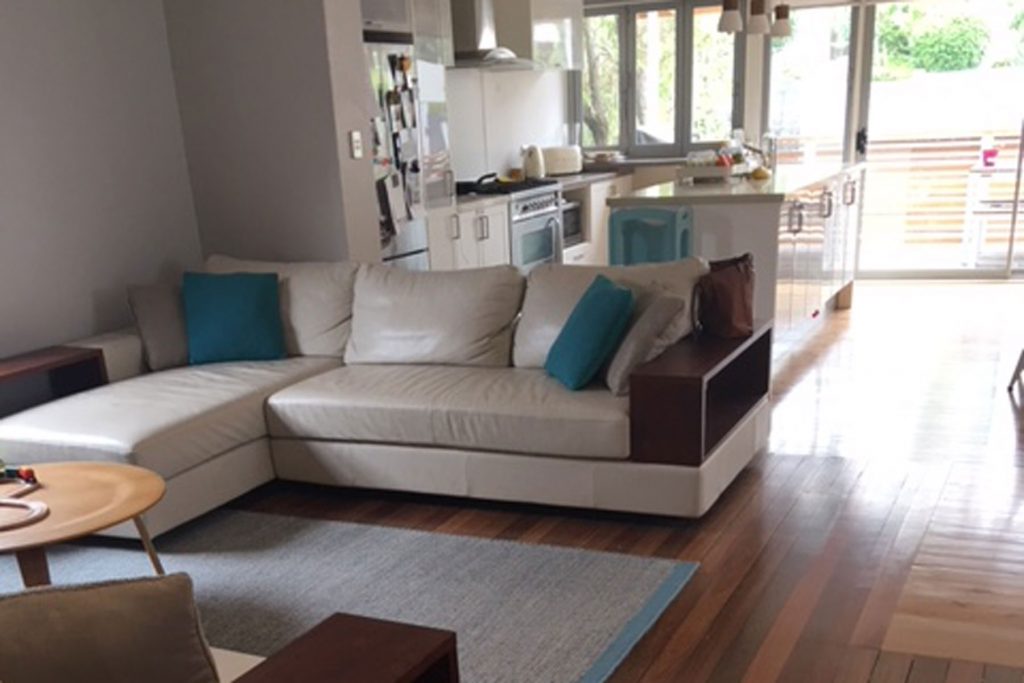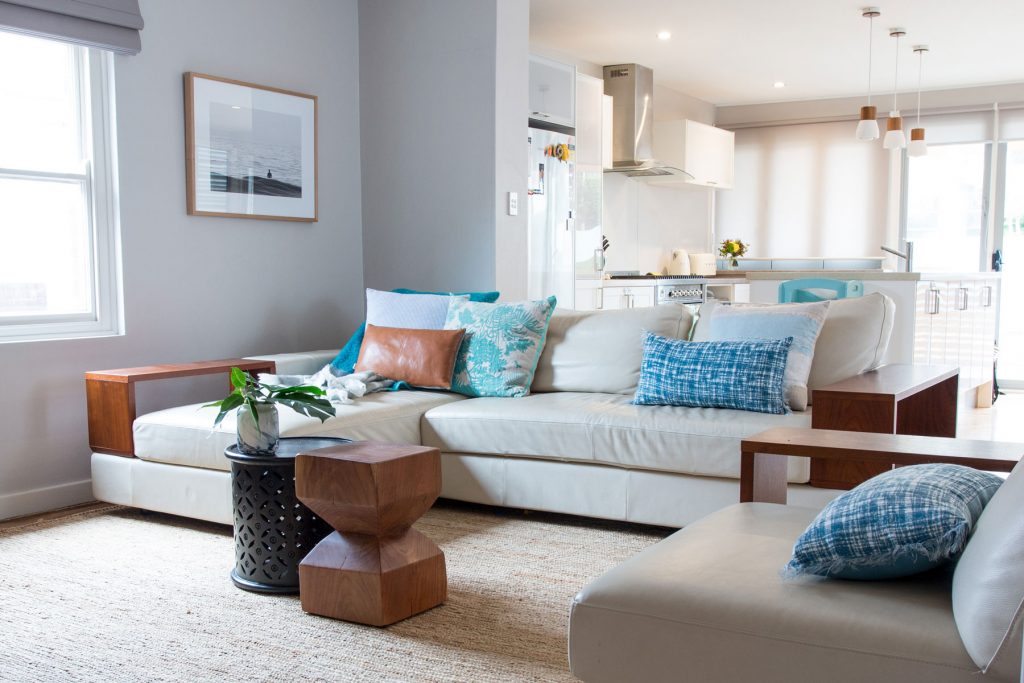 Before:
Although Corinna had purchased some beautiful furniture and feature items, her interiors lacked a cohesive style. Initially Corinna thought she could only afford to redesign a few rooms, but after consulting Designbx she realised she could overhaul seven rooms! The most exciting space was the playroom, which was a blank canvas with limitless possibilities. It was an exciting project, but there was one catch: Corinna was hosting a gathering for Christmas, so the Designbx team only had a few weeks to transform the home.
After:
The Coast and Scandi interior design styles were a natural choice given the home's location, but in keeping with the personalities of Corinna, her husband and kids, there's an additional element of playfulness and vibrancy. The playroom, which is an incredibly important space for the family, features some of Corinna's favourite items, including a swinging chair and some fun yet practical space-saving solutions. Clever spatial planning opened up the living room, and the dining area became a focal point thanks to a stunning gallery wall. Coastal style prints work beautifully with the theme, and an oversized rustic mirror further gives the living area a sense of space. The master bedroom is gorgeous, with classic Coastal colours of blues and pinks creating an inviting and relaxed space. Another oversized mirror reflects the window's stunning views. The Designbx team especially loved working in the playroom which was a blank canvas where Corinna had encouraged creativity. The end result is an amazing, inspirational play space.
Project details:
| | |
| --- | --- |
| Budget | $12,000 - $15,999 |
| Location | Clontarf, Sydney |
| Styles | Coast, Scandi |
| Package | Multiple Rooms |
| Designer | Kerena Berry |