My name's Robyn. I've been a teacher all my life and just become a grandmother. I'm really looking for my home to be modern, up to date, cozy and welcoming and I've really enjoyed the process that I've been through with Designbx. They've been able to fulfill everything I've needed. So it's been great.
How did you discover online interior design?
I was just having a look at a morning show as I tend to do of a morning and it came up and I was really quite interested and listened astutely so I took down the details and then contacted Designbx.
What was the process with Designbx?
The process to start with was for me to measure the rooms and take some photos. There were a few different designers that Designbx sent to me, so I could see various designers and what they portrayed as far as my home was concerned. One of them looked more contemporary, relaxed, casual but still had that nice modern feel
living by the beach. I wanted something relaxed that would reflect that. And because I had that sort of lifestyle that was really nice to have that portrayed in my home We had lots of conversations on email and a couple on the phone which help me to make those right selections according to what I like.
How did you find the Personal Shopper service?
The fact that I could do it at my leisure and to see some of the designs online and look to see how it suited my home before I actually purchase. So it was nice to see a layout and some examples of how it might look in the finish as opposed to buying something and thinking ooh that looked good at the time but it really didn't work out.
I had lots of choices. I could see some examples that were sent to me online that I could think through and really take my time to look at. It was nice to get somebody to help me through all of that.
Yes the savings were great - there was alternatives, in case there was something that was a little bit overpriced for my budget. Then Designbx looked for alternative that gave the same sort of feel. So it was a really nice look in the end of really what I wanted and within my price bracket.
What do you love most about your interior design?
Walking in the front door the dining room table and chairs really pop. I've had a number of people walking in saying 'Wow that looks great really fantastic!'
What would you say to people about online interior design?
I'd say definitely the way to go. I've always been a bit house conscious- making sure that people in various areas of retail come to give me the information, to choose and select products from their stores. But with Designbx they source that out for you across a number of stores and I find that's great, saves me time, energy, worry and plus the people are very professional, they know their stuff.
"Designbx saved me time, energy, worry...plus the people are very professional, they know their stuff. "
— Robyn
From dream to reality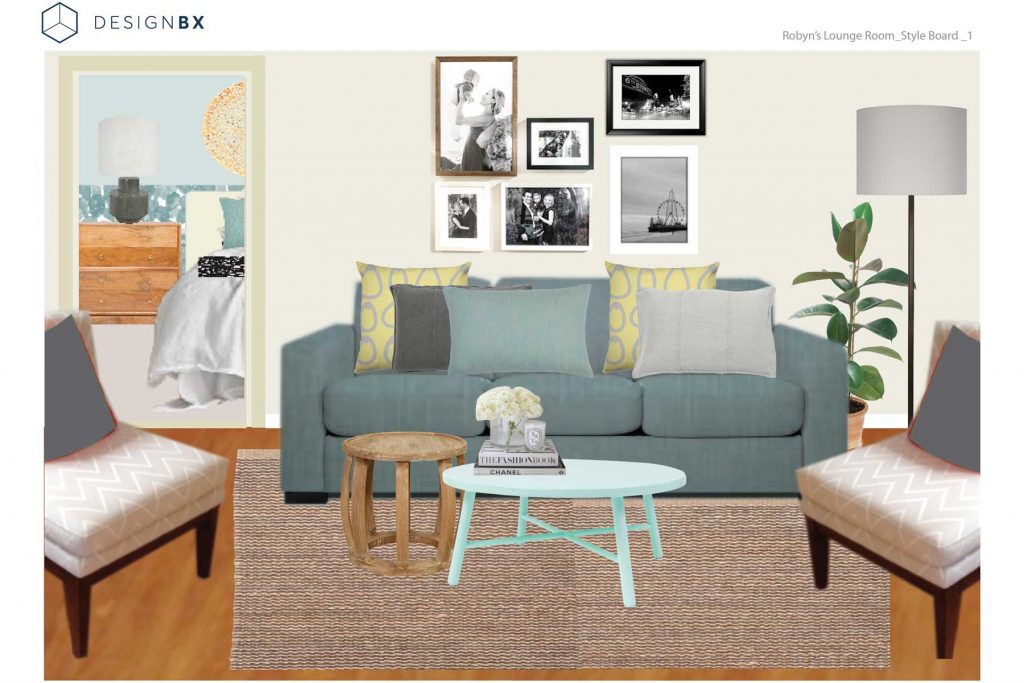 Before:
After becoming a grandmother for the first time, Robyn wanted to get her Bondi apartment 'up to speed'. The true challenge was striking a balance, and creating interiors that were modern but cosy.
After:
Robyn specifically loves the table and chairs in the dining room. In her own words, they really 'pop'. Now she can enjoy a modernised interior where she can still feel as relaxed as the seaside setting she loves so much.
Project details:
| | |
| --- | --- |
| Budget | $8,000 - $11,999 |
| Location | Bondi, Sydney |
| Styles | Coast, Scandi |
| Package | Multiple Rooms |
| Designer | Kylie Monteleone |