One of the most common questions we get asked is at what stage should you engage the services of an Interior Designer – especially when you're looking to build a new home or renovate.  It's a great question and unless you've been through the process before, it can be hard to understand where each person's role begins, ends or crosses over – namely the Builder, Architect and Interior Designer.
When you're starting the process, we get it can be daunting to see all the costs adding up.  But our experience has been on almost all projects where the designer has been engaged early, not only are the cost savings significant, but the client's vision is brought to life without that sigh of frustration or disappointment that it's "not quite what you wanted".  So in short, our answer is engage an interior designer as soon as possible!  
If you're using an Architect, you should engage the designer at the same time so that they can collaborate early in the piece, and make sure interiors specific aspects are not overlooked.  Every professional that works on your project wears a different hat and will be pushing a different agenda, but it's important to remember whilst each has a very different skillset, the designer has your end vision in mind at all times. 
They have the ability, when engaged at the get go, to pepper your design style and lifestyle needs throughout your home design in a considered and creative way.  A designer will ask all the right questions upfront so they have a seal tight brief that will encompass all the knowledge they need to know to make the correct design decision that most importantly aligns to your budget guidelines. That's not to say you are going to need to think about sofas, wall colours and cushions at the beginning – so don't stress!!  It's more around all parties being on the same page and having the same end vision, let the experts do what they do best and the whole design process becomes a free flowing and enjoyable one. 
Below we have broken the process down into 3 phases.  
Phase 1 – Pre-Construction/Planning Phase –  Review Proposed Architectural Drawings
Once preliminary Architectural Drawings are completed, your designer should review and provide recommendations.  Some of the key items are listed below. Reviewing these items early will save both time and money.
Overall spatial planning including review of storage options (wardrobes, laundry, built ins etc)

Doorways and access points

Kitchen and Bathroom function and layout

Ensure correct specifications for Windows and Doors.  i.e – fixed v sliding or stacking etc)

Review of specific furniture requirements from the client.  i.e – large dining areas or special room requirements. In some instances, structural plans might change to facilitate larger/smaller area requirements.
1. Drawing Review Example . Engage an interior designer at this point of the design process.
Phase 2 – Construction Phase –  Review Functional Requirements
This phase is based on the specific user needs.  Here we delve more into how many people are living in the home and family and functional requirements for each space.
Lighting Plan 

Colour Scheme 

Finishes and Specifications (i.e – tapware, flooring)

Window Treatments

Custom Joinery Requirements

Scaled floor plans with furniture placement and the flow consideration 

 
CUSTOMIZED IN-BUILT JOINERY SOLUTIONS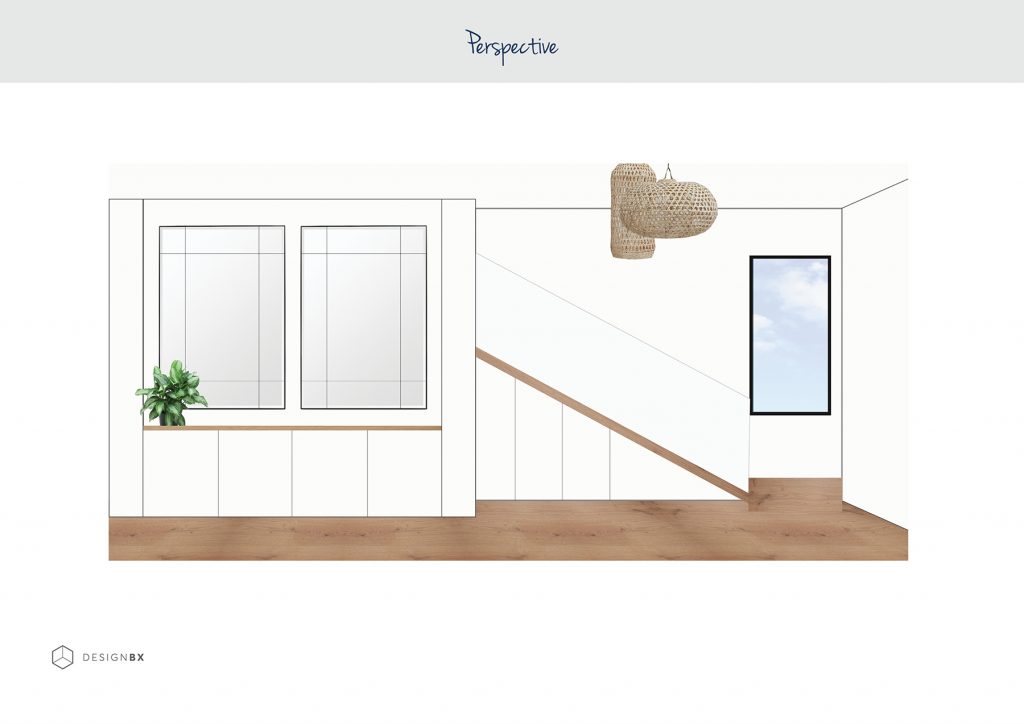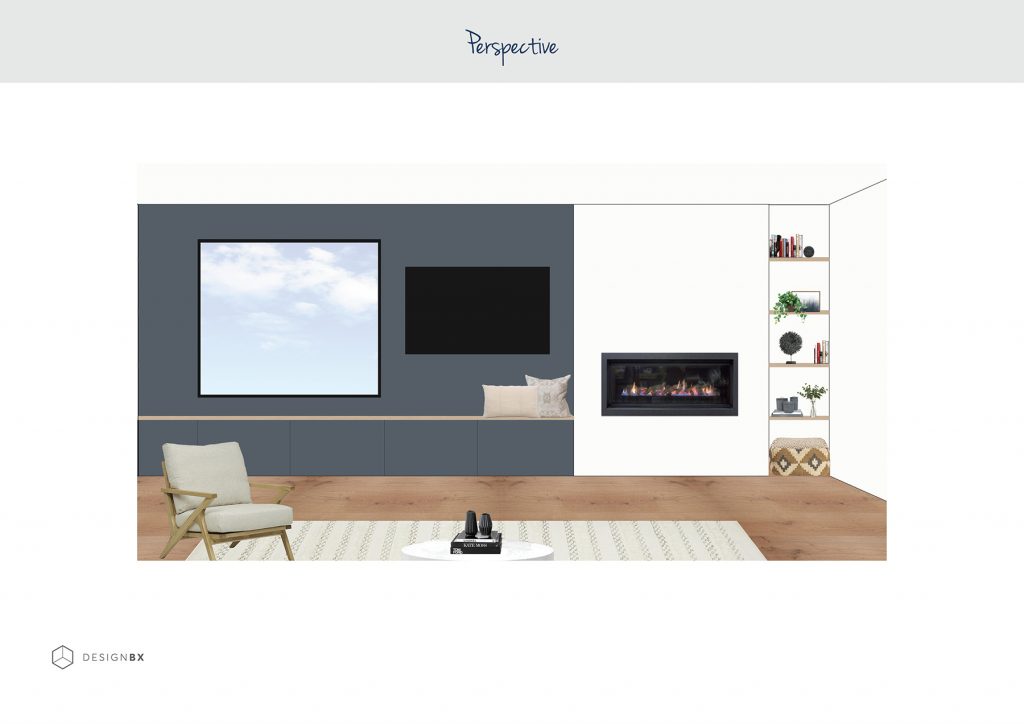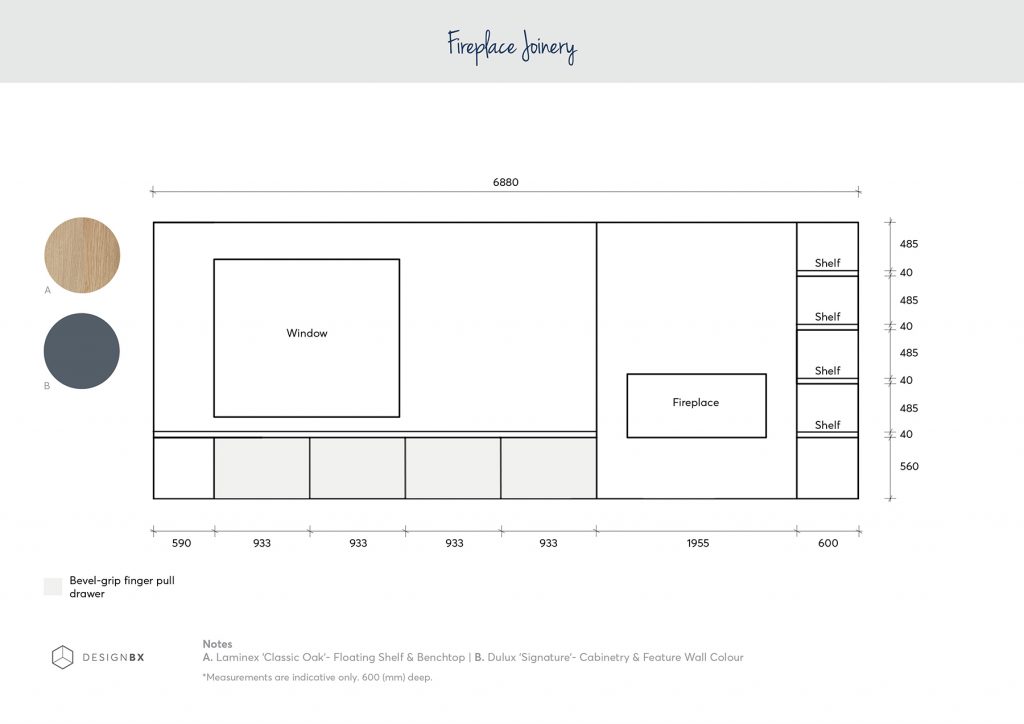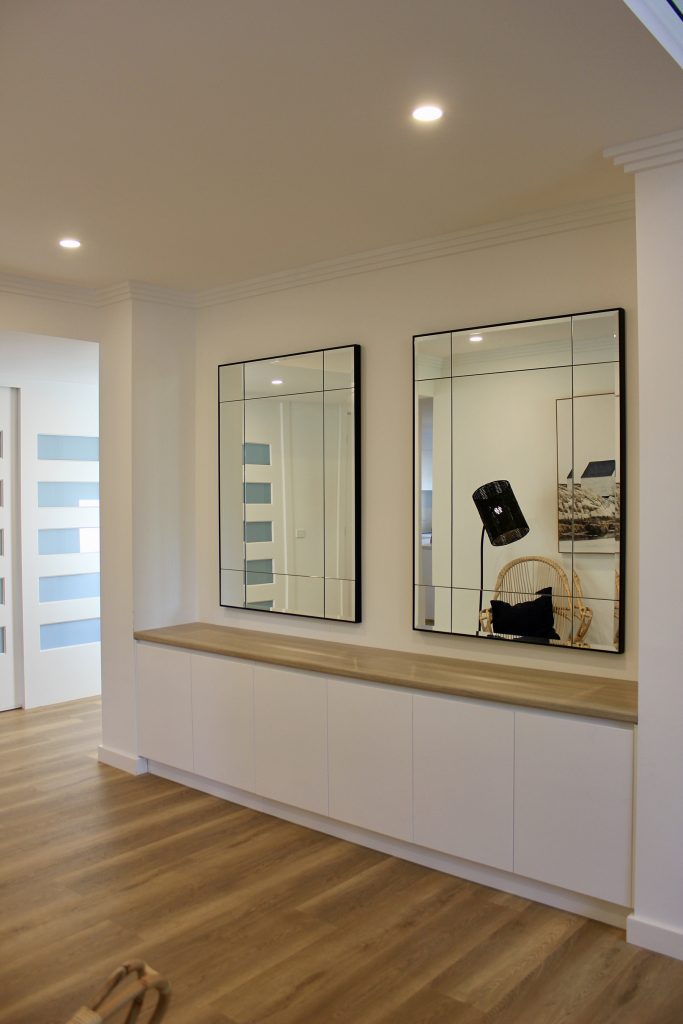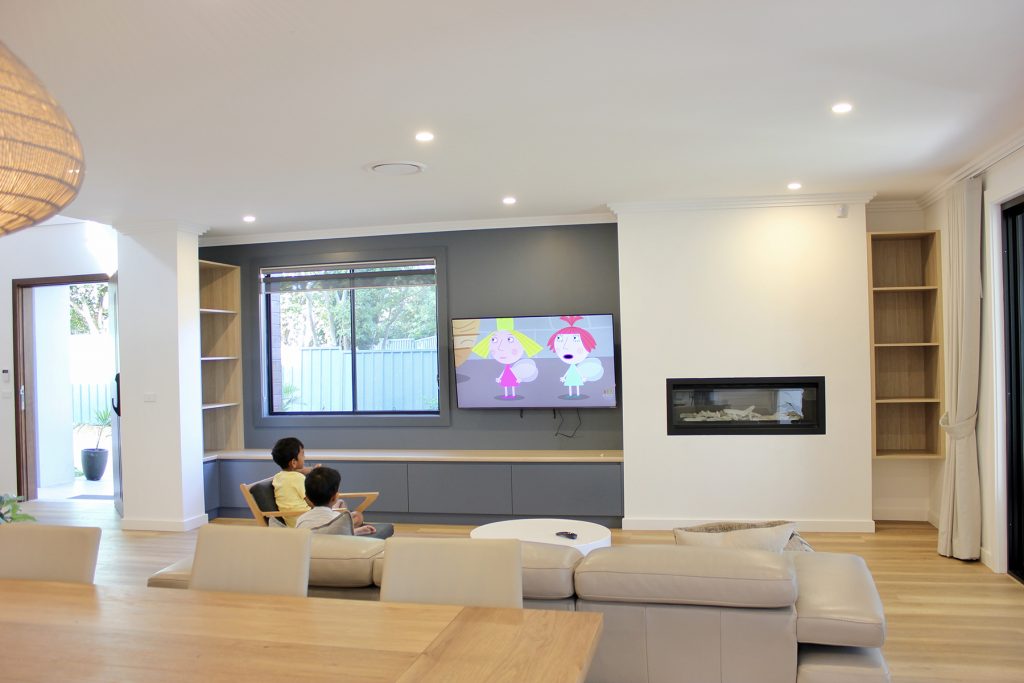 2. Open plan and oversized rooms often benefit from integrating built in cabinetry. It also adds value to your home.
Phase 3 – The Interior Design Phase – Finishing Touches
This phase encompasses the remaining key elements to bring the home to life and is largely focused around the Interior Design including furniture selection and layout.  Within this phase, your designer will present to you the following key components for each space, working within your budget
Style Boards 

Furniture and Product Selection

Floor Plans

Detailed perspective drawings (using product selections)

Personal Shopper Service with trade discounts

Installation and set-up can be included if required.

Project Management for interiors components can be included if required.

 
 INTERIOR DESIGN PHASE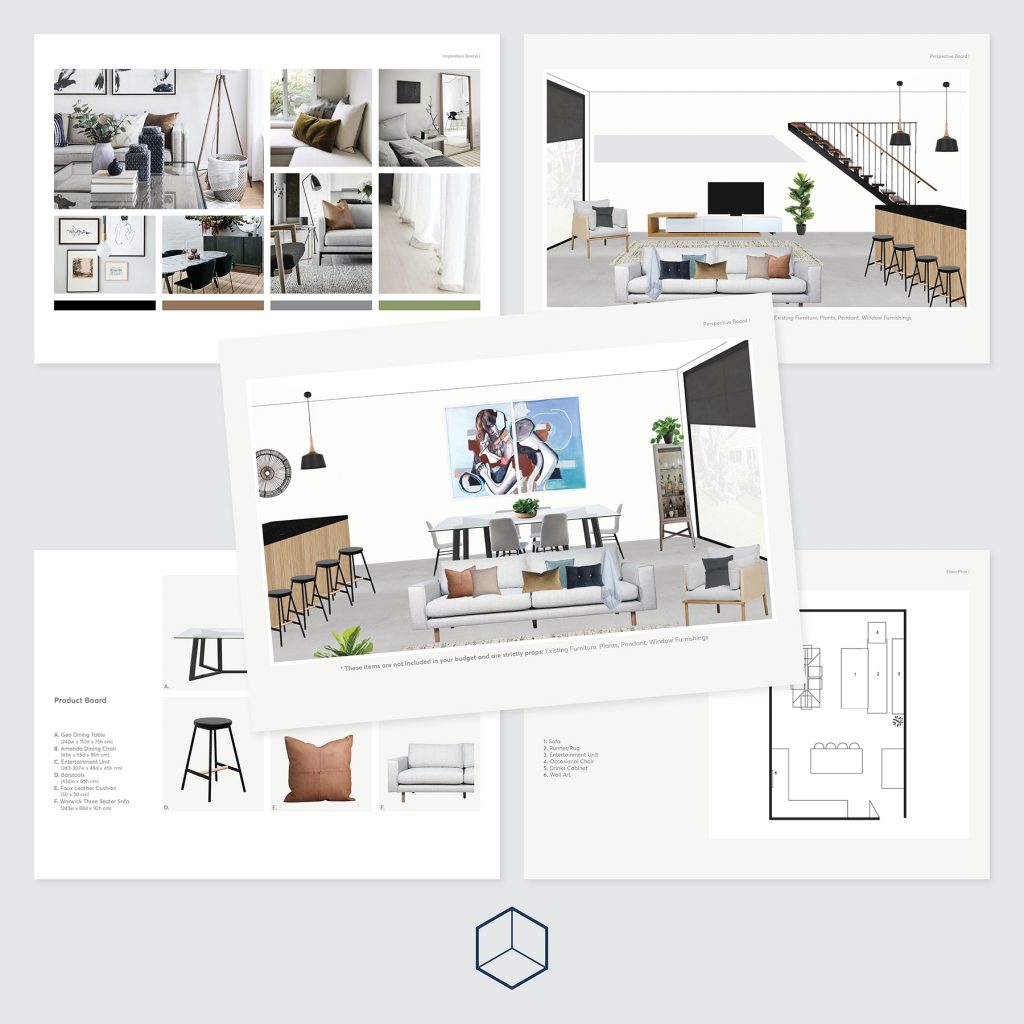 3. A little peek of some elements included in your Designbx Design Folio; Style Board, Perspective drawings, Product Boards, Floor plan – everything you need  to create your personalised space – See some finished projects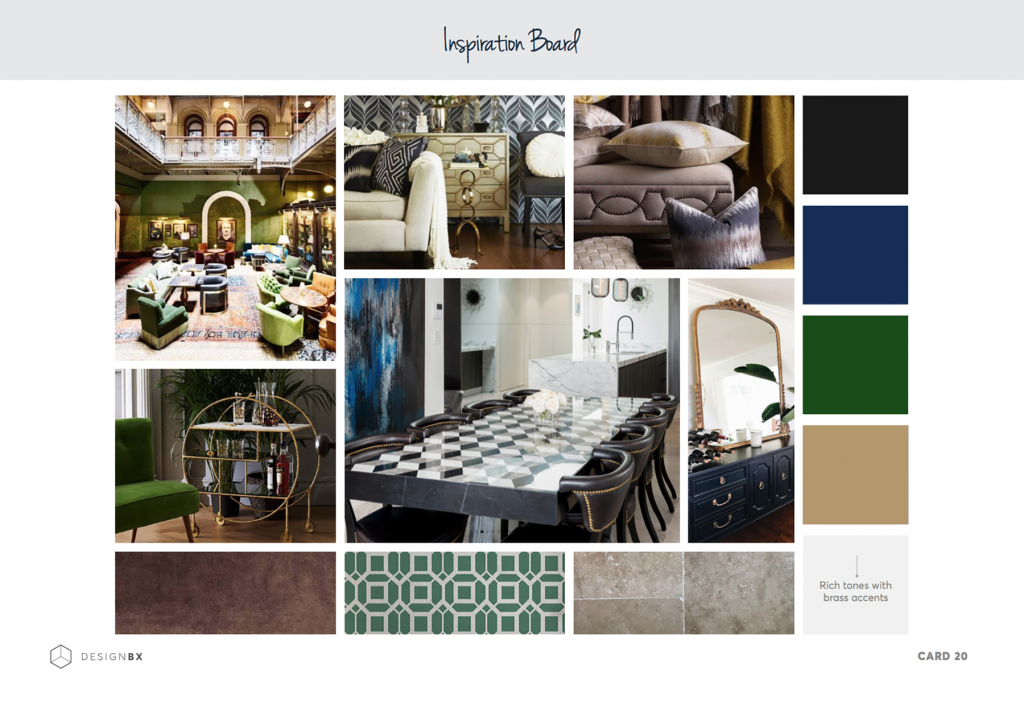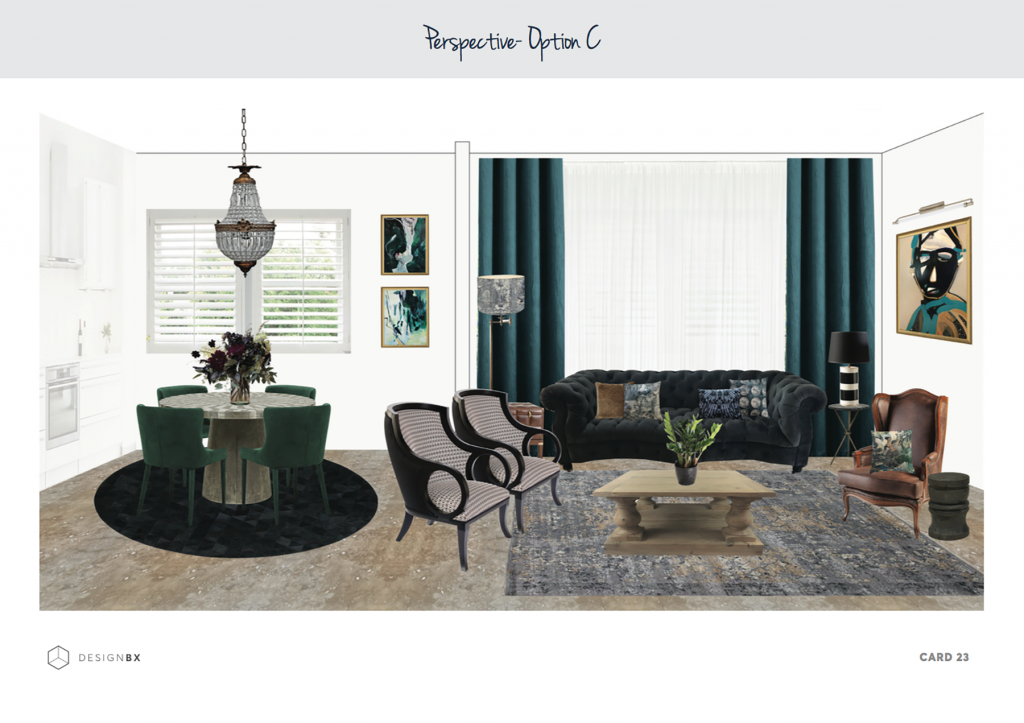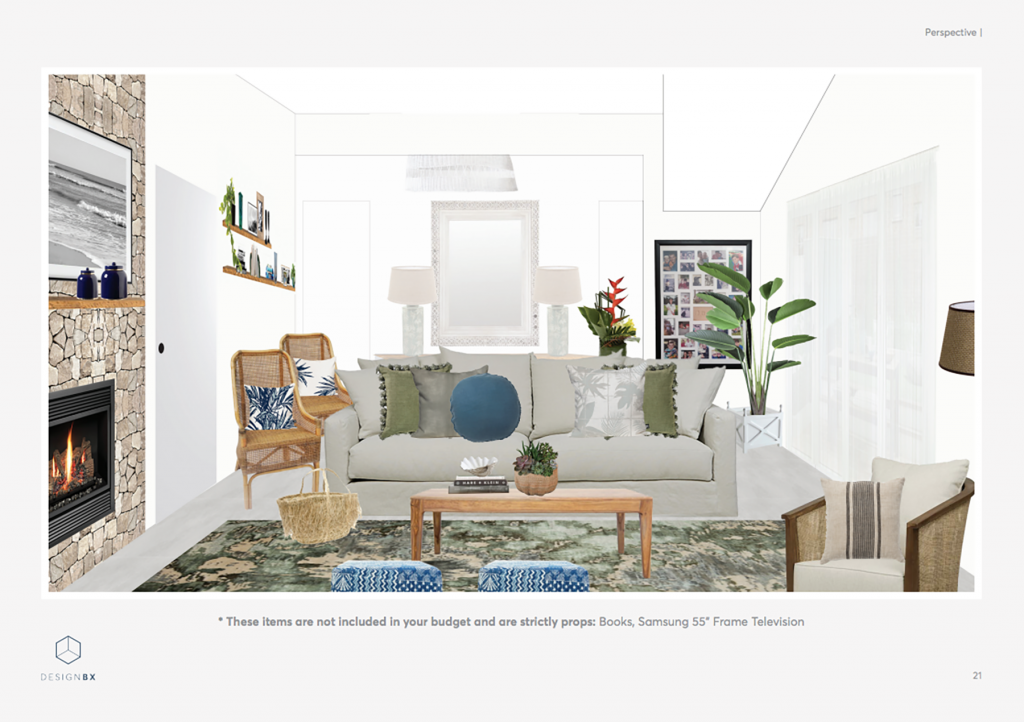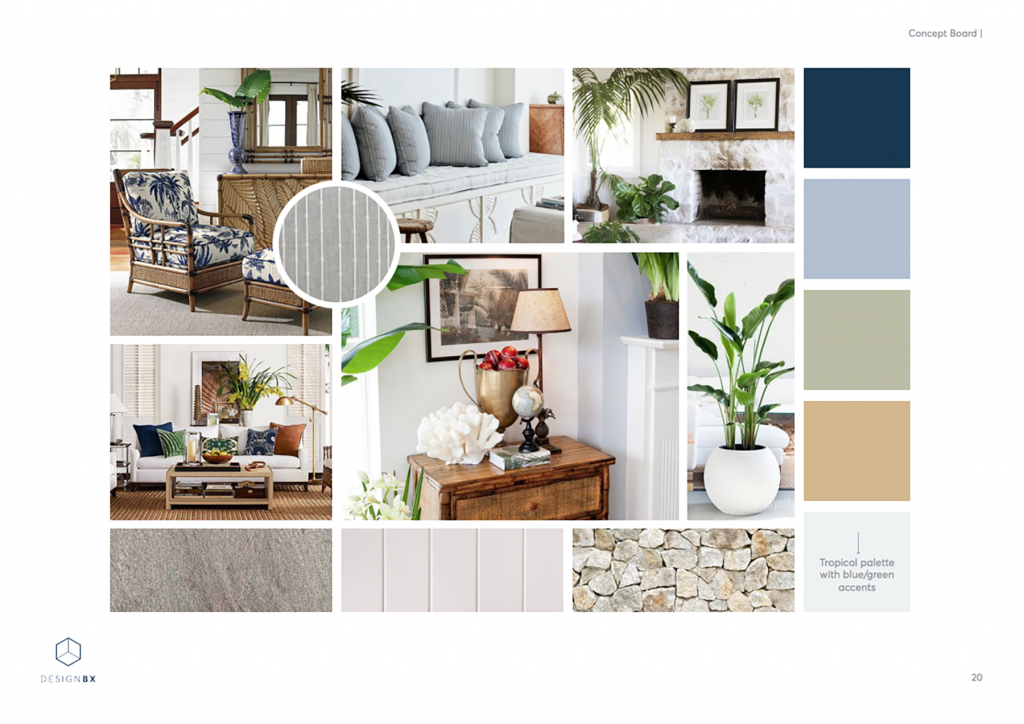 Designbx have completed similar projects across Australia and Internationally.  We offer architectural drawing review packages that start from as little as $499.00.  If you have started your project or currently in the planning phase and it's time to engage an interior designer – reach out to the Designbx team via for a chat – we would love to help you with your project. 
Would you like to know more about Designbx and who's behind it, a more personal read about the Co founders Kerena & Kylie – Enjoy!