So you want to go antique without the price tag of an old, historic castle? Vintage interior design is all about colour, floral prints, patterned rugs and functional decorations. Even though it was known as a simpler time, the interior design says otherwise. Be prepared to go bold and keep it simple at the same time. You don't have to put a dent in your savings just to create a vintage inspired home. All you need to do is get creative and follow our top tips.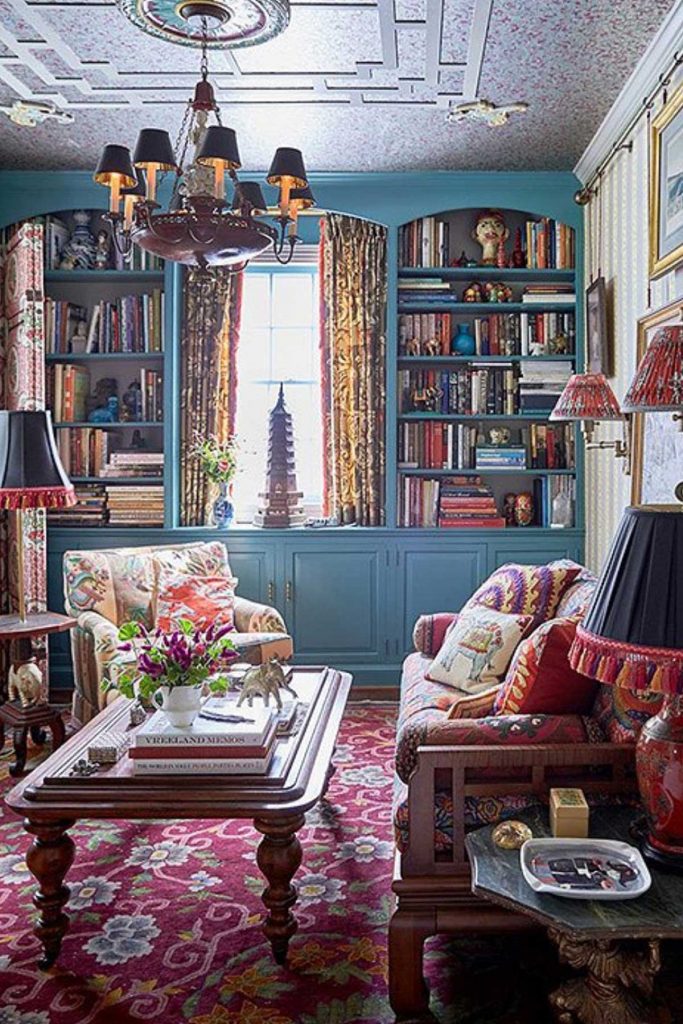 1. New colours for an old look
Let's start with the colour scheme. Just about anything can be used for your antique style. Some suggestions are: aqua blues, sunshine yellows, creamy whites and leather browns. Also incorporate floral prints as this was the trending design of the time. To save money, instead of buying new furniture just because the colours don't match, simply give your cupboards, tables and cabinets a coat of fresh but old looking paint.
Roughly coat chalk paint onto the furniture, creating an uneven surface.

Use graphite and water to darken edges and legs, where wear and tare would have occurred

Use coarse sandpaper and paint scrapers to distress the furniture for a worn look

Use clear chalk paint wax to finish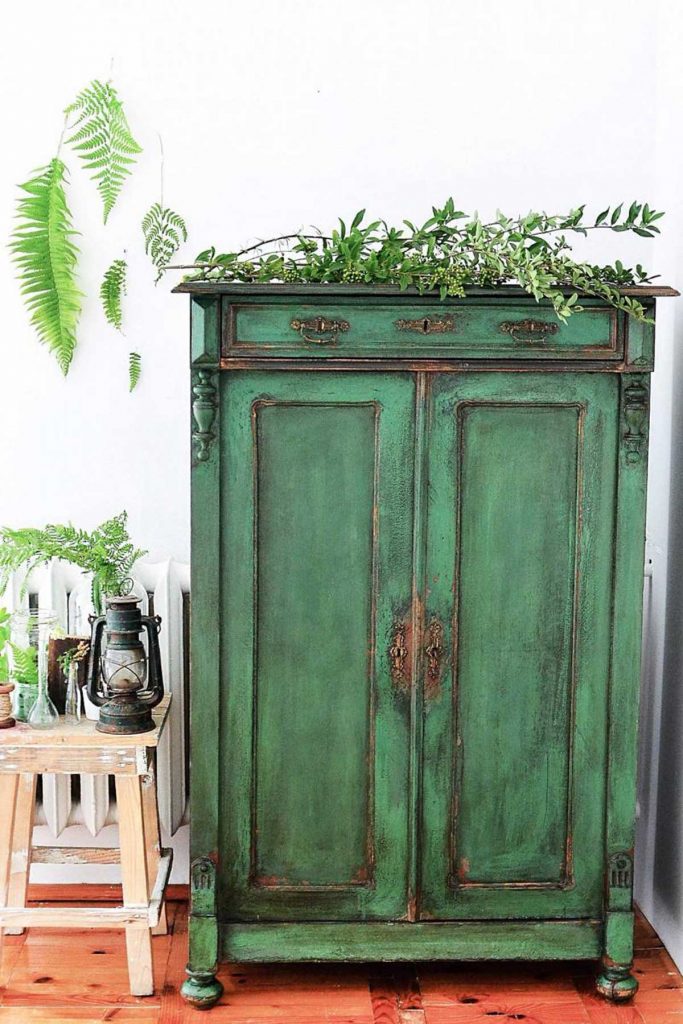 2. Fancy fabrics for less
Many antique styles incorporate expensive fabrics such as large velvet couches and silk curtains, but often there is a cheaper alternative that looks just as effective. Instead of using velvet, opt for felt which has a similar texture and no one will be able to tell from afar. As for those luscious silk curtains, synthetic satins shimmer just as well and your bank account will thank you for it. When choosing furniture in these materials, a blend of yellow and blue will give a vintage look and can also be styled with just about anything. You could also go traditional brown leather but make sure it is a weathered look and not a 'straight-out-of-the-shop' appearance as it will stick out like a sore thumb.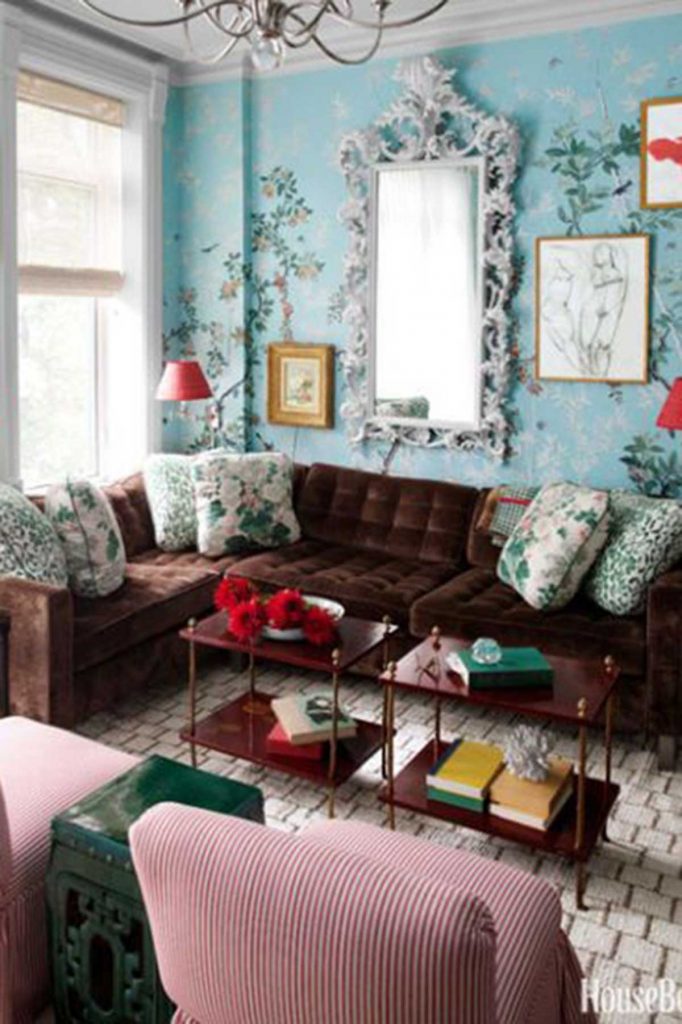 3. 

The traditional home library
It wouldn't be an antique theme without a home library. Grab the oldest looking bookshelf you can find and fill it with the oldest books you can find. Books with a little ware and tare are ideal as it gives the impression that they were actually read once-upon-a-time. This is where the op-shop actually does come in handy. Many outlets sell books for next to nothing and they are generally used books which is perfect for the look you're going for. Place a velvet couch in the room and you have yourself a traditional antique library.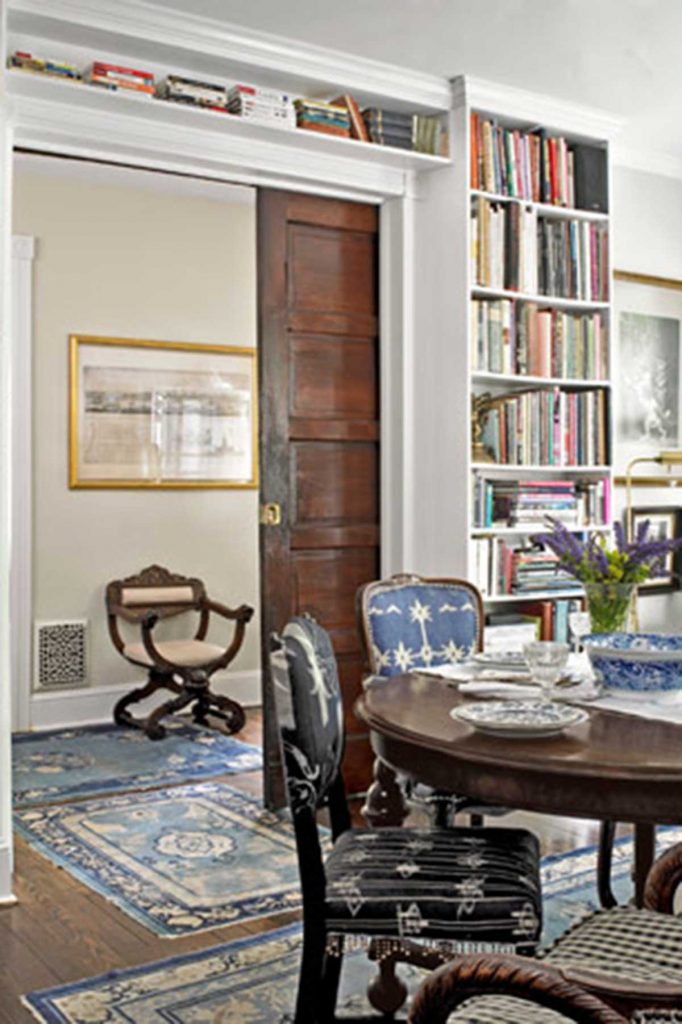 4.

In the kitchen
The kitchen is by far the easiest room to transform into a antique masterpiece. Vintage inspired kitchens are on trend and it's relatively cheap and easy to transform a modern kitchen into an antique one. Start by removing cupboard doors. Yes you heard right, there was no place for cupboard doors back in the day. Everything on shelves and in cupboards were celebrated as part of the design of the room. Open shelving or glass cabinet doors are the perfect addition to a antique kitchen. If this move is a bit too bold, simply replace doors with vintage curtains in cute floral or stripe patterns. Another antique addition to the kitchen can include replacing cabinet knobs. These days, knobs are often shiny and simplistic but the antique style calls for something with pattern and elegance. Try brass or iron handles that can often be found at the local hardware shop.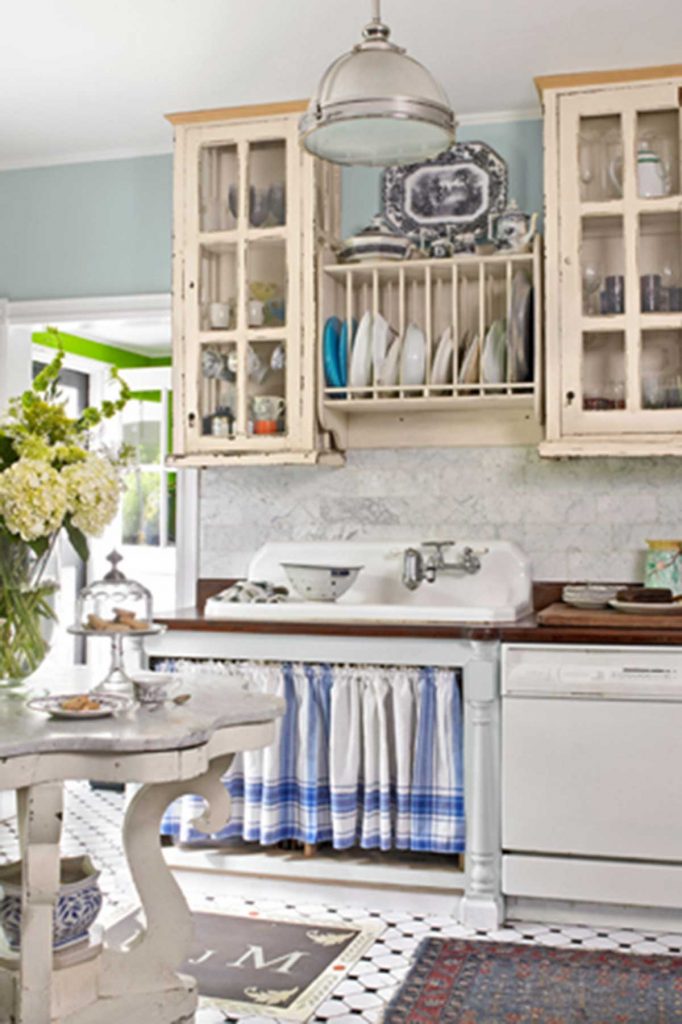 5. Time to decorate
Vintage interior design is all about having functional decorating items such as those decorative plates hanging on the wall, that may come in handy when people are over for dinner (even though they are rarely used, the thought is there). First let's turn your lighting into an artwork. Paint your old lamp shades with floral patterns for a unique touch. Don't stress if you don't have an artistic side, simply grab leaves and paint them in various colours, to then press into the shade. Rugs are the next big necessity. Colourful Chinese art deco rugs are perfect for a vintage touch. The more pattern and colour the better. Rugs can be a big investment, so instead grab a few metres of fabric, such as Ikea's ikat fabric, and head to a dressmaker to sew the seams. Although this may not be the centre piece of the room, it's a perfect base for furniture. As for the walls, create an eclectic mix of various frames. Grab old wooden frames from and op-shop or repaint frames in gold and brass colours.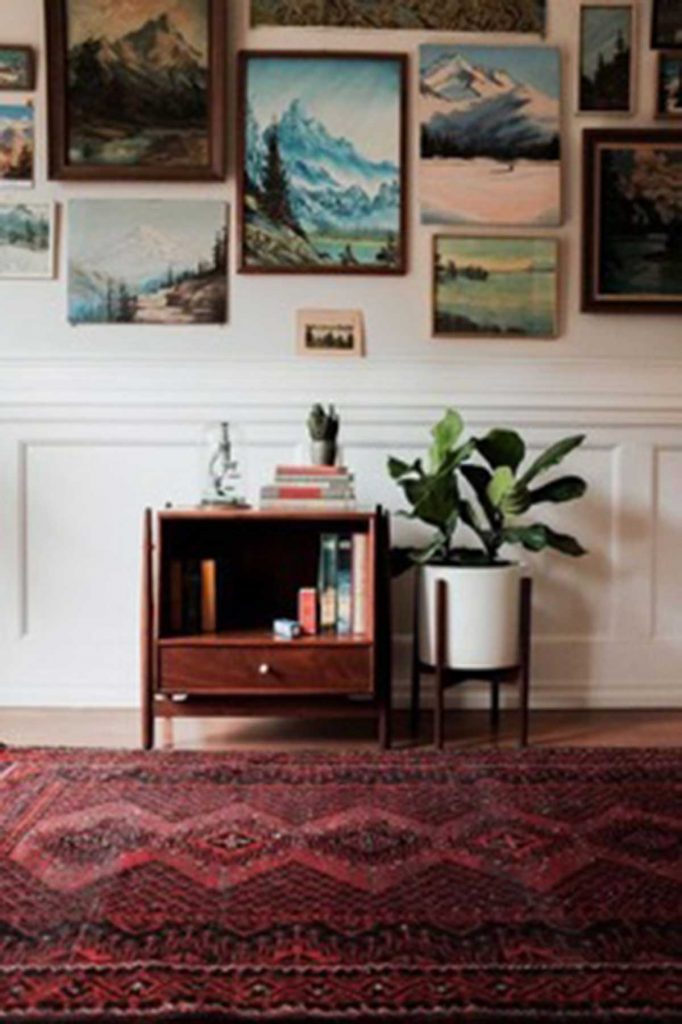 Image source
6. Storage
When thinking about storage, think of all the possible uses for one item. Such as a small bowl can be used for jewelry storage, to hold a candle or to hold keys. Vintage silver, brass or copper bowls, vases and plates are ideal for storage in every room. Expensive looking pieces can be found at op-shops for inexpensive prices, or you could raid your grandmother's house for timeless pieces. Bowls can be used for plants such as succulents, or hanging plants. Antique vases can be used for makeup brushes and toothbrushes. Vintage plates can be used for wall decoration or can be made into a multitiered jewelry holder.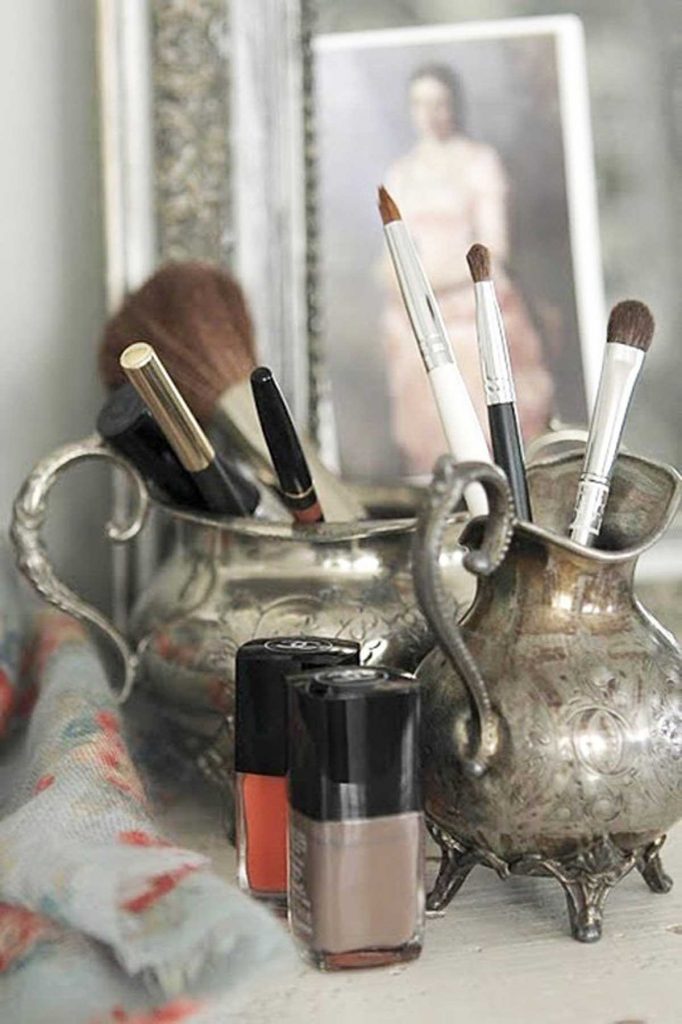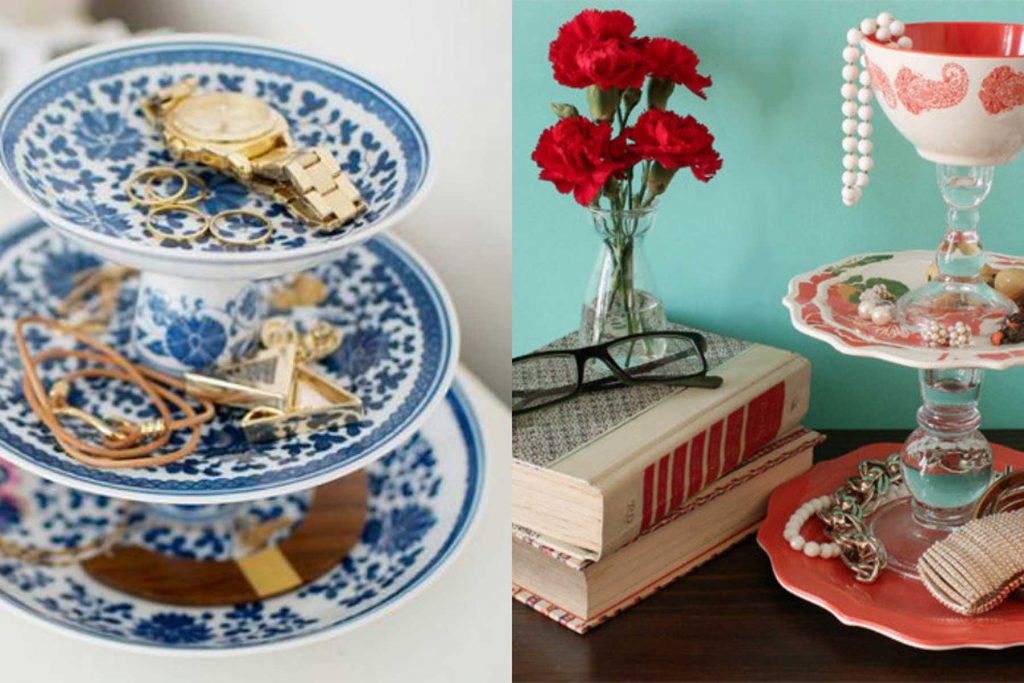 7. Hang your memories
Hanging photos doesn't have to be done in the traditional framed way. This idea lends itself more to the country vintage look but is also perfectly suited for a home in the city. Use wire or an old fence gate to peg photos onto. Painted wire is often worn and this means it will fit in perfectly with your worn painted furniture.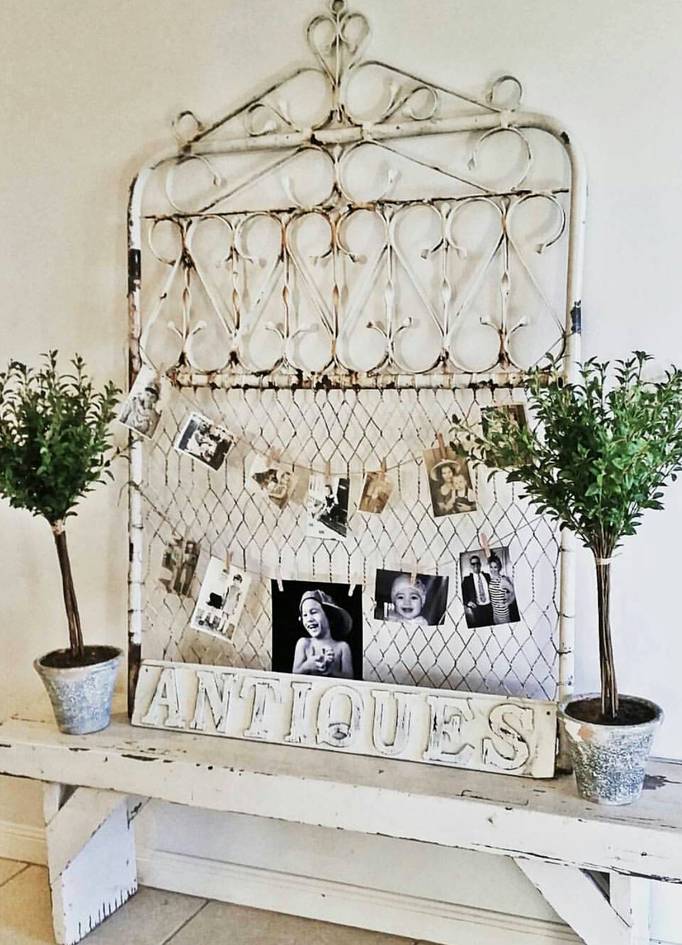 As you can see, vintage interior design does not have to send you bank into the negatives. By getting creative, you can bring your antique inspired designs to life for less.