October is Breast Cancer Awareness month and it's a time to reach out and support Cancer Council's Pink Ribbon campaign. Whilst the flowers are blossoming and life feels a little brighter at this time of year for most of us, unfortunately in 2017 there were 17, 586 new cases of Breast Cancer in females. There is a 1 in 8 chance of being diagnosed with breast cancer for females and a 1 in 715 chance for males. It is not all bad news though. With the revolutionary medicines we have today, the mortality rate for breast cancer continues to drop.
In the spirit of the month, we'd love you to bring some blush to your home, so here our our pink interior decorating ideas: 
1. Kitchen designs
Bring your kitchen to life with pastel pink appliances. They make a subtle statement while sticking to a modern theme. Smeg coloured fridges are a popular trend and they come in a beautiful pastel pink. You can also complement this with a pink toaster or kettle or even utensils. As for the kitchen table, pink placemats go perfectly with white, timber or glass tables.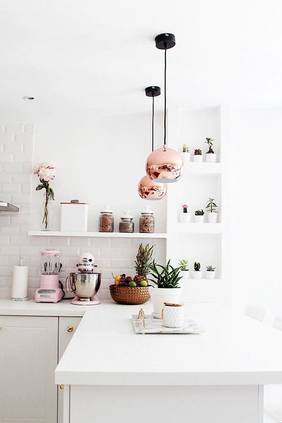 2. Living room designs
Make a statement in your living room, with a pastel pink feature sofa. Pink seating may seem like something you would put in your 5 year old's room, but you would be surprised by just how popular they are these days. They can be easily styled in a neutral coloured room and blend well with cool greys. Add little dabs of pink around the room such as a rug, cushions or rose gold accessories and you have yourself a grown up version of a princess wonderland.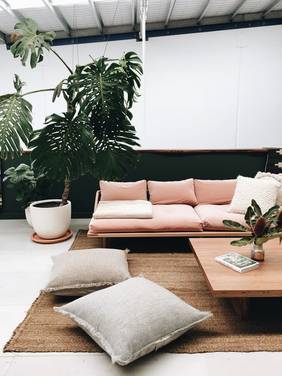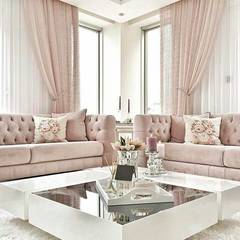 3. Bedroom designs
If you really don't know where to start adding pink into your bedroom design, the easiest place is the bed covers. A plain pastel pink will match just about any style, but if you're feeling more adventurous check out Designbx's pink bedhead. Match this with marble, grey, white or light timber coloured furniture and accessories. If you are looking for for master bedroom decorating ideas, armchairs are in vogue. Don't forget the lighting! Try rose gold, white or pink lamps or shades and take a look at Designbx's Copper and Blush lamp or Pink pendant shade. As for accessories, try pictures and wall hangings that incorporate pinks or add some life into the room with a vase of flowers.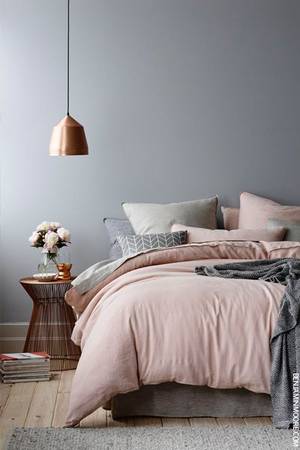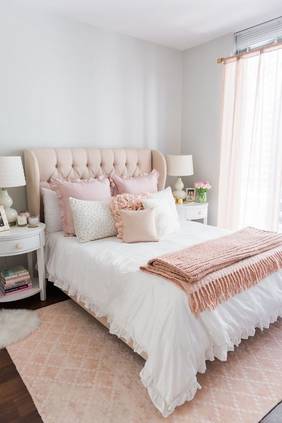 For interior decorating that's a bit more quirky and personalised, try pink neon lights to hang on your wall.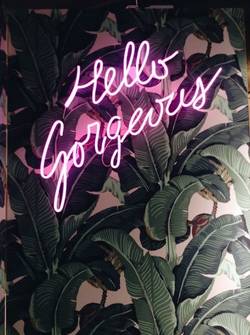 4. Study designs
The study is a place where you want to feel comfortable, inspired and productive. Interior design can have a big impact on how we feel, but by adding pink furnishings into your study area, it helps to create a welcoming cosy environment. Pink wallpapers create a great backdrop for a desk and can be styled with black, marble and rose gold. Light timber desks are also trending and can be coupled with pink and marble accessories such as a real (or fake) vase of flowers.. For the more courageous designer, try pink curtain drapes around the window.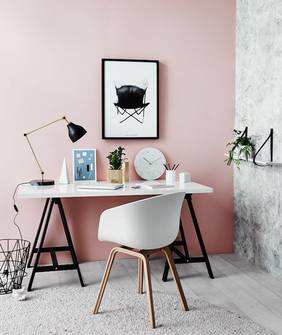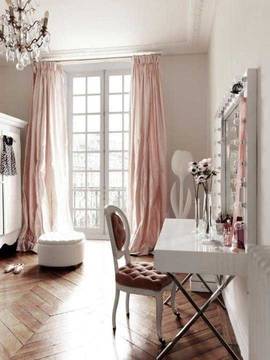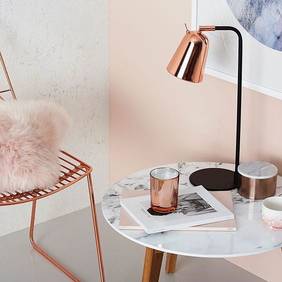 To support Breast Cancer, Designbx are pledging to donate $50 per PINK item purchased from our Shop the Look range of products to Cancer Council during the month of October.  If you still want to make a difference, but don't want to bring pink into your home, you can donate directly. Remember every bit counts!