Want to head to the races without breaking the bank or buying that outfit you'll never wear again?
Well we've created the ultimate fashion guide – 11 tips to have you looking fancy and fashionable while keeping those hard-earned dollars in your savings account. Race day fashion isn't about who can get the most expensive outfit, but who can do it the smartest. First you have to decide what fabulous race day you'll be attending.
In Sydney
Derby Day Race Day at Rosehill Gardens on Saturday 4th November, Buy your tickets here
Girls Day Out Race Day at Rosehill Racecourse on Saturday 18th November, Buy your tickets here
In Melbourne
Derby Day at Flemington on Saturday 4th November, Buy your tickets here
Melbourne Cup Day at Flemington on Tuesday 7th November, Buy your tickets here
If you can't make any of these dates, there are more races to be found at The Australian Turf Club.
1. Consider hiring a dress
Remember those times you've bought an expensive dress that you pledge to wear everywhere but end up wearing once? A lot of the time, those fancy Melbourne Cup Fashion dresses end up sitting in the cupboard until they're old and out of fashion. If you're attending a one-day event, doesn't it make more sense to hire a spectacular dress for the occasion. You can claim it as your own (we won't tell a soul). Head to Glam Corner, Your Closet or My Dress Affair to find the latest Spring trends.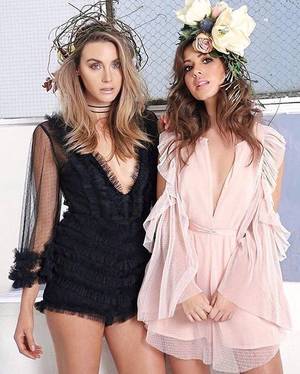 2. Work around a favourite item
Who said you can't reuse your old items on race day? Bring out your favourite pair of shoes and style your outfit around them. You could even use a favourite handbag, belt or necklace as the starting point of your outfit. If your shoes or bag boldly coloured, style them with a neutral coloured dress, to make sure you don't take attention away from the statement accessories.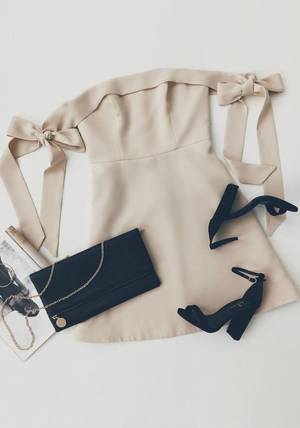 Image reference
3. The new age of online shopping
Walking around the shops for hours is a dying tradition. Today there are thousands of online clothing stores, so you certainly won't have any problem finding a huge selection. Will you safely stick to Australian stores or will you venture into other countries, like the multitude of American online retailers?
They offer benefits like huge discounts, free shipping and after-pay, which is much more than a physical retailer can offer. Many stores also have a 'Race Day' section to make it easy for you to browse all the latest Melbourne Cup fashion trends. Start with The Iconic, Missguided and ASOS.
You can also create a unique look with brands like Shoes of Prey where you can create custom shoes, with an affordable price tag. We love this concept!

4. Change it up
You don't have to go to the races wearing the fanciest, puffiest dress you can find. Instead, test out pants, pants suits or skirts. Culottes (aka skorts) are a key trend this season and can be easily styled with a crop or tucked-in top.
Mid-length skirts are also easy to style with a nice top, providing elegance and creating a statement at the same time. If you don't want the hassle of styling two garments, try pants suits, which are also on trend.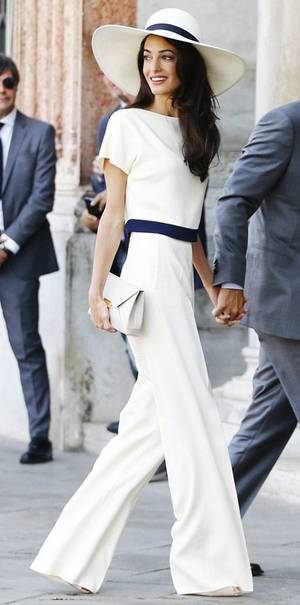 Image reference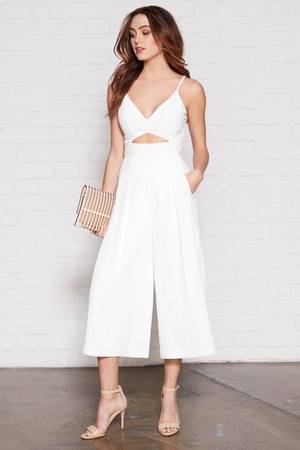 5. Make your outfit POP
Embrace lovely spring colours such as sunflower yellows, light blues and rich reds, but steer away from neons. Not only will you stand out from the crowd, you'll also have everyone else wishing they weren't wearing a boring neutral colour.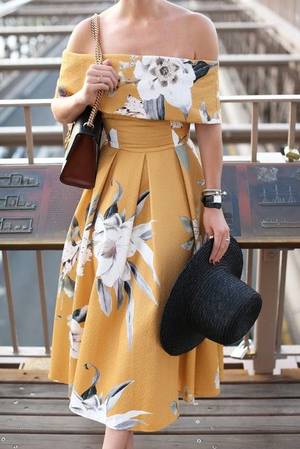 Image reference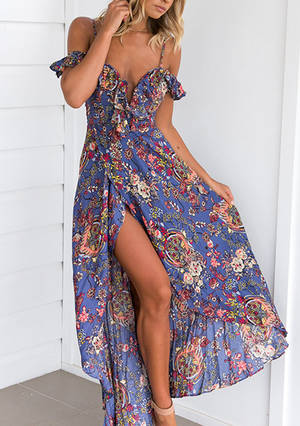 Image reference
6. Wear shapes and textures
Another way to stand out from the crowd is to mix up your outfit by including different structures and textures in your style. Structured sleeves are a must this season, not only for the races but for everyday fashion.
You may also want to go the extra mile and wear a one shoulder top, off the shoulder or plunged neck style top. Add textures such as lace, embroidery, mesh and embellishment details to give your outfit an extra layer of elegance and style.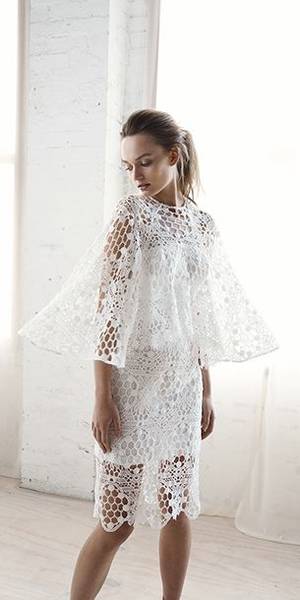 Image reference
7. Derby Day dress codes
Derby Day runs on the 4th of November at both Rosehill Racecourse (Sydney) and Flemington (Melbourne). The dress code is black and white, so make sure you don't turn up in a bold-coloured spring dress as it might be a bit awkward.
This is possibly the easiest day to dress up for, as you can restyle that little black dress with some jewellery or a fantastic headpiece. Alternately you can dress up some sleek pants with a lace or structured sleeve top and look just as dazzling.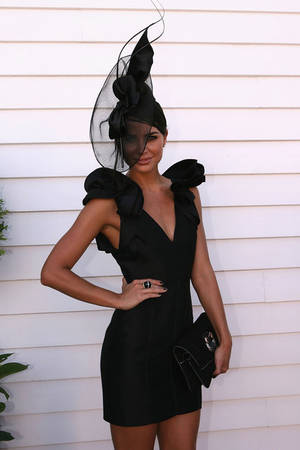 8. Mid-length madness
As mentioned before, mid-length dresses are a go-to for any season or event. Find a simple block colour mid-length dress (or skirt), add some timeless jewellery, and you'll have yourself a stylish race outfit. The good thing is, mid-length dresses can be restyled for a wedding, baby shower or even a nice dinner in town.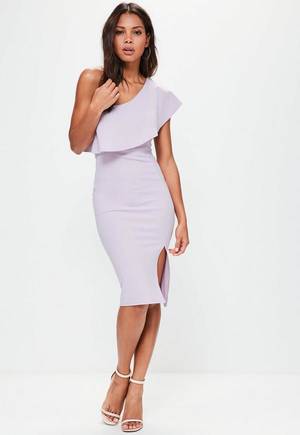 Image reference
9. DIY fascinators
That's right, you can create your own stylish fascinator without spending hundreds of dollars, and it all starts at your local Spotlight or Lincraft store. Grab a picture of some trending fascinator styles and browse through the millinery section of your local stores.
Feather, foliage and ribbons can create an expensive looking head piece for less than half the price of a new fascinator. You can start by using your favourite hat and adding accessories and big ribbon bow ties.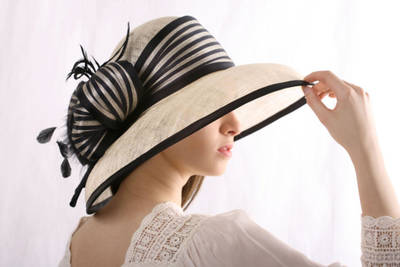 Image reference
10. Fresh not fake
You can also rely on fresh flora to create your fascinator. Flora such as dahlias, blossoms, strawflowers, roses, lisianthus and chrysanthemums, combine great together, even though there are some we can't even pronounce! Use bobby pins, ribbon or clips to keep your flowers intact.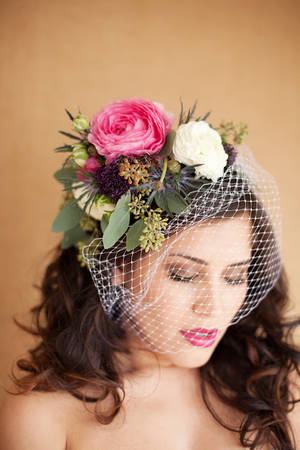 Image reference
11. Remain photoready
As we have already experienced this season, the days are hot and only set to get hotter, which is not good news for our make-up. Don't forget to prime your face before applying foundation.
This isn't something you want to remember after you've spent hours getting that winged eyeliner perfect. In your race day emergency handbag, also keep concealer, a small compact and of course, lipstick. Find the ultimate shade to make your lips shine at . At the end of the day, wine glasses have more lipstick on them than we do!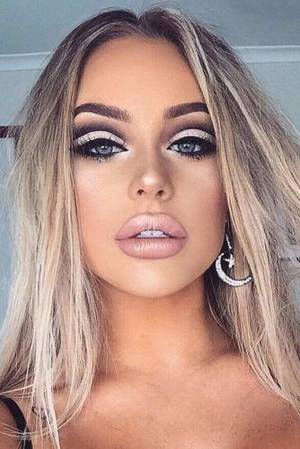 Image reference
We can't guarantee you'll leave the racecourse looking quite as stylish as when you arrived (champagne anyone?), but these 11 great styling tips will definitely help you turn heads at an event that is an annual celebration of style. A little friendly fashion rivalry and competition is half the fun so make sure look like a million dollars without breaking the bank. And as we always say…shop responsibly.