Home is where the heart is. It may be cliche, but nothing could be more accurate about the Designbx journey – the online interior design business founded by Kerena Berry and Kylie Pratt to give every Australian the chance to create a home they can be proud of. 
It's been three years since Designbx disrupted the interior design industry by introducing the concept of 'e-decorating'. The business was founded on the wholehearted belief that everyone deserves a beautiful home that reflects their own unique sense of style. The women who founded Designbx could never have imagined – all those days, weeks and months ago – the impact such an offering would have on the lives of their clients. Or themselves for that matter.
"I found myself part of an industry that had the ability to have a real impact on peoples' well being and sense of self, yet was still very much unattainable, expensive and intimidating to many. And unlike most industries, interior design had not yet found a way online. We didn't anticipate how empowered and excited our clients would feel, and how the transformation of their homes would positively impact the rest of their lives and ours," Kerena says.
Designbx was a collision of two booming trends – ecommerce and interior design. Long considered an indulgence of the affluent, interior design was not something accessible, nor affordable, for the average consumer. But spurred on by the Australian house-proud mentality; buoyed by the enormous popularity of home renovation shows; and fired up with the passion to merge everyday living with beautifully designed homes, Designbx was born. Early on, Kerena and Kylie knew they were onto something special.
  "I wanted to be part of something that changed the way people live their lives. From a business sense, Designbx just made sense. I knew so many people interested in design who were renovating, relocating or just wanting a nice place to call home. But they were also too time poor to engage a professional to meet with constantly at home or spend their weekends traipsing around furniture stores, or evenings trawling Pinterest for inspiration," Kylie says.
Today both women get personal and reflect on the last three years of blood, sweat, tears and textiles on their journey to reimagine interior design for every Australian. And all the while they consider, where to next?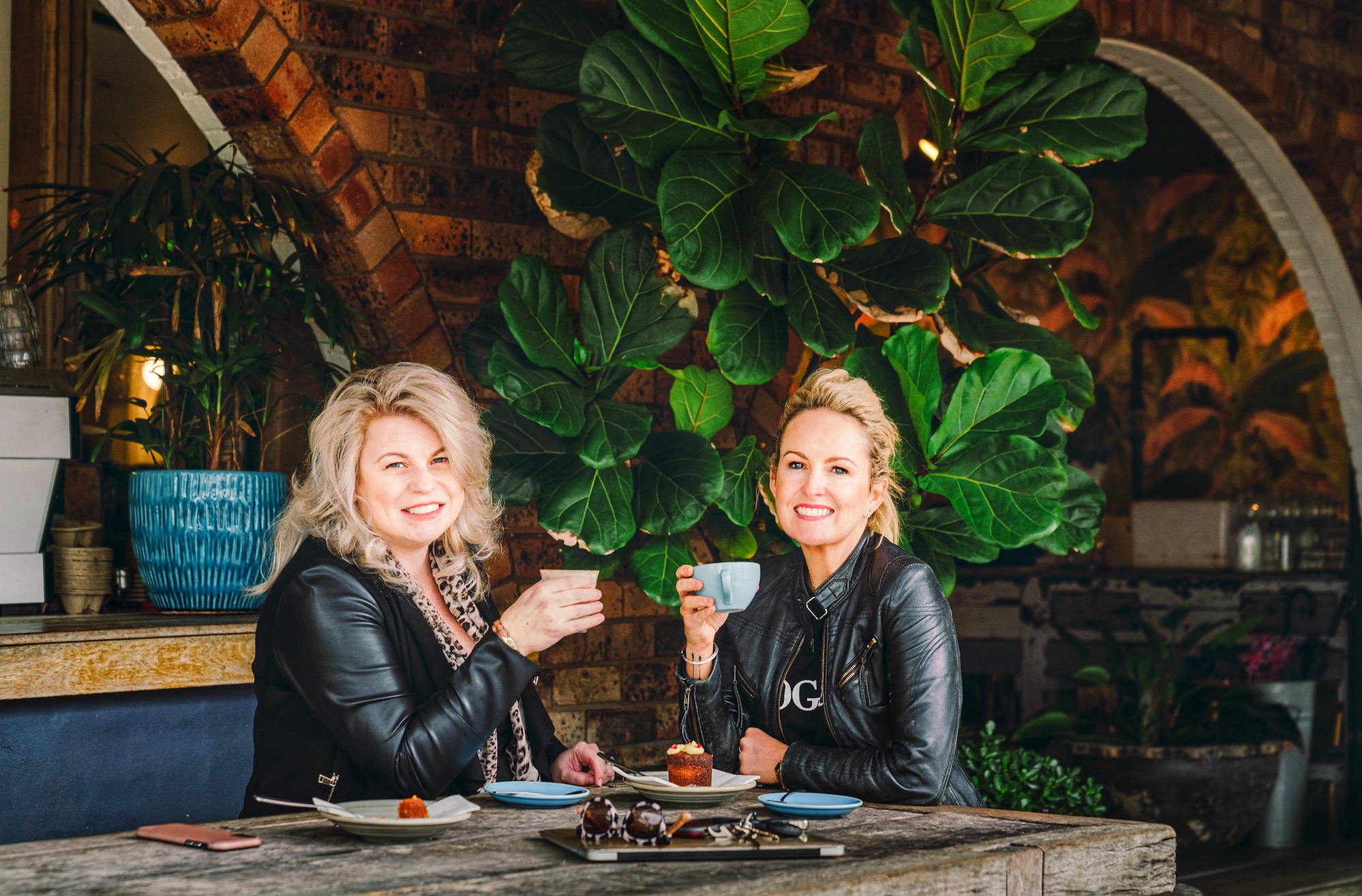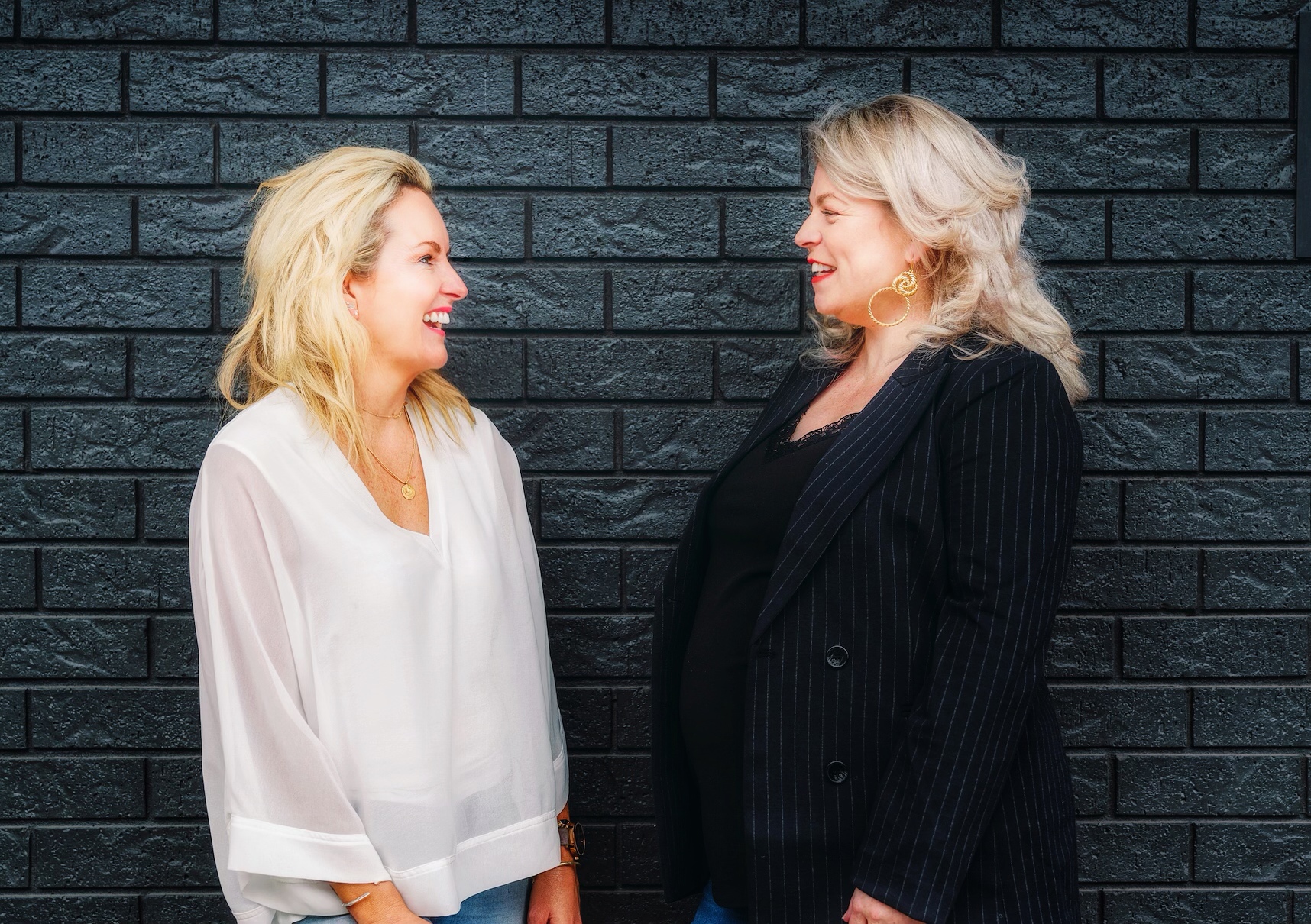 Having an idea is one thing, but bringing it to life is something else altogether. How did you get started?
Kerena: I recall feeling extremely overwhelmed at where to begin. Being first to market with a concept comes with many challenges, and trail-blazing is riddled with more lows than highs. Grasping how to learn quickly from your mistakes and keep the ball rolling is key. There is no room for pride when in start-up mode, and we were very much novices in many areas. But we believed wholeheartedly in what we were doing, and there was a real sense of purpose that we could make a change. I personally had to learn to ask for help, which is something I've never been good at. But I saw that people genuinely wanted to back us up and see us succeed.   
Kylie: There were a lot of days when I asked myself, "What are we doing?" Starting a business from just an idea is hard. Going in we were a little like a deer in the headlights; especially coming from corporate backgrounds where support,  systems and budget were readily available to manage the day-to-day practicalities of business, like
"Who will process these receipts?" "Who will update that data sheet?" "Who will make that sales call?" The answer to everything early on is, "Me".  But looking back, that environment breeds a deep understanding and appreciation for every part of your business, what your customers really want, what they need and how to respond quickly when things shift. Being at the coal face is a good thing, but it's also dirty work!
What has challenged you the most along the way?
Kerena: It's a fine line between the wind and the weeds, and we've learnt that to be successful business owners we need to do both at times. Maintaining a wide view of the industry, trends and what's on the horizon is key. But at the same time, we have to keep a finger on the customer pulse. That often means working closely with designers on each project to ensure we're meeting the client brief, but also pushing boundaries and delivering truly creative solutions that are true to our name: Out of the box. We've learnt that having a team of people working on each project leads to better design outcomes and happier clients – which at the end of the day is what we're all about. 
It has been a challenge educating the market on what 'online interior design' is, and at the same time breaking down the long-held belief that it's expensive, intimidating and only accessible to the wealthy or incredibly stylish. Personally, achieving that nirvana of work/ life balance is still a work in progress. When you absolutely love what you do it's very hard to switch off; but Designbx came with the long-term dream of having more time with my babies. So it's an ongoing juggle and one I'm so lucky and grateful to have. 
Kylie: With a new-to-market concept there was a lot of guessing at the start. Despite both mine and Kerena's backgrounds – knowing how the industry worked and how people generally want to engage in such services – bringing this reality to the online world was a challenge. Being online removes the human element of the offering, and this provided a steep learning curve, and resulted in us rethinking a few elements to reintroduce more of the human touch back into the business. The home is a personal and safe space – a haven – and it's important for people to feel the humanity behind what we do so that we can deliver the best experience and results possible. 
We never lose sight of how lucky we are to have people invite us into their homes and allow us to help create incredible spaces that tell their story and truly merge their life with design. 
Much like Kerena, the work/life balance piece is still very challenging, but I have learnt a few key things along the way. That balance looks and feels completely different to every single person, so it was really important to figure out what that landscape looked like for me – and to commit to living it the best way possible. For me, that's a career and business that gives me the opportunity to explore my passion for travel, people, culture and philanthropy, while working with my two fur-babies at my feet!
I'm also about to become a mum for the first time this year. So having a career I love and a business I've invested my heart and soul into, that also allows me to me to embrace and enjoy motherhood in a way the corporate world does not always allow, was a big part of the Designbx plan. 

Kerena, Amelia and Hugo 
What are your most memorable and proudest moments from the last three years?
Kerena: I'm so proud that we truly understand our clients and have created a platform that helps every Australian access world-class interior design. Attending the Telstra Business Awards as nominees was a real highlight – the businesses in the room that night warmed my heart to no end. I realised then, more than ever, that you truly need to be filled with passion and purpose to be successful, and we have that in droves. I love what I do every day and I truly believe we are making a positive change in people's lives through design.
Kylie: Rarely do we just stop and reflect on our achievements. Leaving my full time career to run this business is a real highlight for me. For anyone who has left a secure paying job to start a new business will know it's one of the scariest things you will ever do.  But, if you are passionate, you have the idea and the drive – and the ability to silence that little voice in your head! – you might just change your life. 
Reading what our customers say about us gives me a real buzz. I personally speak with every client at some stage throughout the process, and I adore hearing how Designbx has helped them overcome their challenges. Seeing them go through the full design process and loving the end result, and then seeing a beautiful review at the end, blows my mind every time. We genuinely love our clients so much and we're so grateful they give us a glimpse into their homes and lives, and allow us to make a difference.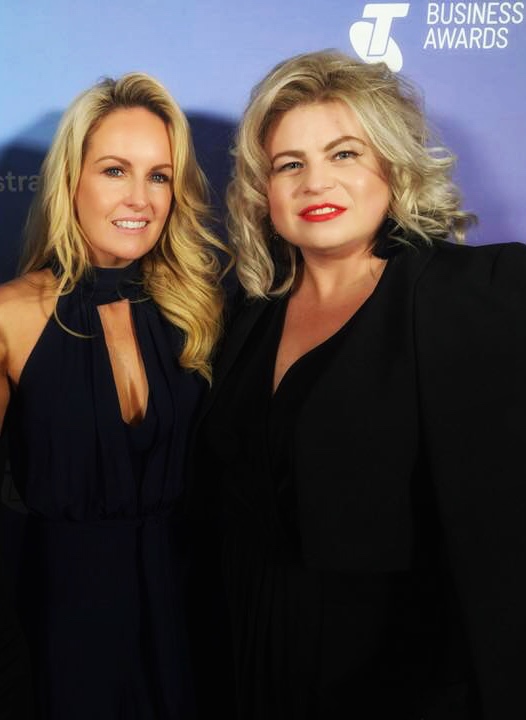 Kerena & Kylie at the Telstra Business Awards
There are so many industry and economic factors that can affect a business – especially small business. How has the market evolved since you began and how you have responded to remain relevant?
Kerena: There are now a number of new outfits exploring online interior design, which is brilliant. More noise in the market is a huge gain for us. Educating the market on what and how to 'do' digital interior design continues to be a hurdle for us, so we love so-called 'competitors' and welcome them as they strengthen the conversation. There are millions of homes in need of design help, so the more the merrier. 
The Australian supplier chain has seen some lows over the last few years, with many companies doing it tough and closing up – some online, but predominantly bricks and mortar. This has taken some navigation and created some challenges. However, we are grateful to have extremely long-standing relationships with a number of core suppliers, and have the passion, contacts and zest behind us to be forever on the hunt for new and up and coming designers and companies to ensure we have everything at our fingertips to create the perfect designs for our clients. Business after all, is all about people and relationships. 
Customers have a lot of power now; they are educated on suppliers and price and have the ability to shop around.  Customers are incredibly savvy. But we don't fear this, as through our relationships we're able to drive competitive trade discounts with our suppliers, which we pass onto our clients. We pride ourselves on being competitive on price but stand by our 100 percent happiness guarantee.
If we've learned anything in our time in the industry it's that a positive, fun, and trusted design experience superseeds saving every single time – that's just a bonus!
Kylie: The market landscape has changed significantly since we launched, but we're dedicated to keeping our finger on the pulse. As Kerena said, we view competition as positive – with any new idea, a collective effort to educate the market is important. We can all learn a lot from each other and have even reached out to a number of our competitors to discuss industry challenges. A positive change to the industry has been new freight and delivery startups giving Australians more delivery options at better prices. That's certainly an area that's needed a shake up for some time, so fingers crossed it continues to improve.
Designbx is such a unique concept. How do you ensure you continue to push the envelope and shape the industry as a whole?
Kerena: I feel we are continuing to create and refine a solution that people feel 'at home' with. It fits in with their life.  Being online means clients can view designs, collaborate with their designers and sign off products all through their devices – any time of day or night. Being able to design on the go keeps the process achievable, and ultimately enjoyable, as it doesn't become just another job to get done. We're creating a real-world way to design, and making sure we keep the love alive.
Our clientele are diverse – in age, style and living arrangements. And we see this as a truly unique attribute of our business. With spaces ever-evolving and the housing market morphing – more people are renting than ever before – we are incredibly conscious of creating designs that are flexible and transportable. I like to think we're creating a fluid approach to interior design.
Now, more than ever, people need their homes to be their sanctuary – a safe and tranquil place that allows them to reflect and decompress. Life is busy and people are feeling the pinch and I don't see that changing in the immediate future. We're so proud and honoured to be able to help create these havens for our clients.
Kylie: We're educating the market in a way neither of us predicted, or intended, at the start. Apart from the obvious stuff like trends and guidance on how to place a rug or hang artwork,
we are showing the industry that a home needs to wholely represent the people living in it – not the person who designed it. There's no room for ego at Designbx: We design for the client, not ourselves.
We empower our clients with this belief the whole way through the process, and really encourage them to speak up – which can be a lot easier for them online versus face-to-face.
We have also found a big misunderstanding in the market around what an interior designer actually does, when to engage one and what value they can add to a project. For example, one of the custom services we offer is to review architectural plans at the start of a project. Architects and designers wear very different hats.  On several projects we have made suggestions to our clients to change the architectural layout of the plans prior to any building starting, to allow for function and the style they want to achieve with the interiors once they reach that phase. Engaging a designer early in the process can be hugely beneficial for clients, and ultimately end up saving them a lot of money.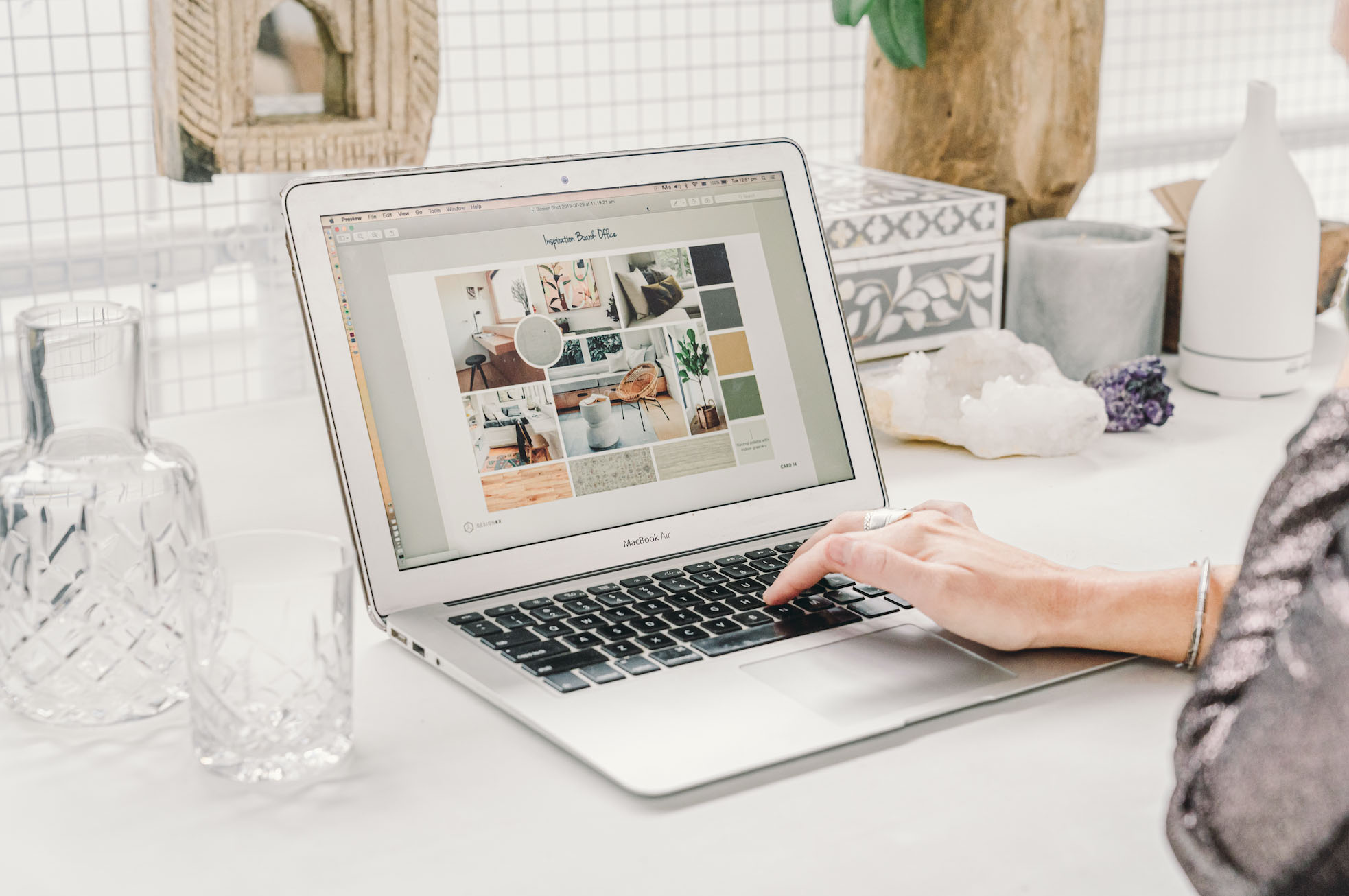 In a small business it's all hands on deck. So what do you love about your roles?
Kerena: I predominantly oversee the design arm of the business and support with the creative and marketing strategy and implementation. I'm what we call the 'crayon department'! I love doing our shoots – whether its inhouse or at a client's home – and I'll be there with all my props buzzing around like a chook with its head cut off, squeezing as many shots into a session as possible. I just love getting 'on the tools', and it's the most enjoyable part of my role. 
But most importantly it's the working relationship I have with Kylie that cements that love for what we're doing. We're equally committed to being across everything Designbx, and yet we have total trust in each other – our individual roles, unique skills (and weaknesses!) – to get in and get it done. As in life, in business it's healthy and helpful to share, ask for help and get a different point of view. For me, I love feeling supported when I throw out new ideas, knowing there is no judgement – just a safe space to explore new things. We both are equally invested and it's our partnership that means we stay ahead of the game and get to feel absolutely fulfilled at the same time.
Kylie: I'm always heard and trusted by my business partner. As owners, we are both continually coming up with new hare-brained schemes; some of which are solid, and some that don't bear repeating! But to have a safe environment to voice our ideas is absolutely imperative to a successful business and a harmonious working relationship. I know how lucky I am to have such a passionate, clever and talented partner who always drives me and the business towards success. Knowing you have someone that is always giving 200 percent makes it easy to do the same. 
Out of pure curiosity, take us through an average day for the Designbx team.
Kerena: An average day? Well, no two days are the same! And that's one of the reasons I love it so much. Our project list is so varied; we always have a mixed basket of styles, house sizes and budgets on the books; and we are constantly positively challenged by our diverse projects, which keeps the creative juices flowing. My day generally starts around 6am – I sit with a cup of tea and clear the inbox and draw up my to do list for the day. It could then be briefing for a residential or commercial client, meeting with potential partners to explore collaborations, photo shoots, marketing strategy sessions, product designing and sourcing, website development and sneaky coffee breaks. Being online not only brings ease and comfort to our clients but allows the team to work on the go, respond swiftly to questions, design changes and general support. We can weave our work around personal commitments and know that we are still always there for our clients.  
Kylie: Every day is different, but the focus is always the same for me. Anything that is going to affect a client outcome or experience with Designbx is my number one priority and takes precedence over 99 percent of other things. Usually I'm up at 6am and do an hour of emails and planning for the day. If I need to do any writing this is the best time for me. Then I really love to go for a walk with one of my dogs Sophie in the morning – it gets the blood flowing and gets me amped for the day. Then I have breakfast and I'm straight into anything project and product related, talking to clients and suppliers, investigating business development opportunities and the operational side of the business. Mix that all in with some business finances and a daily catch up with Kerena and that's pretty much the day. I must confess that I'm a serial offender for having 20 or more tabs open on my computer towards the end of the day, which can be quite counter-productive… but I'm deeply curious and I love absorbing knowledge from all the interesting business stories that come through my inbox during the day. 

Kylie and the family (one on the way!)
In the face of industry challenges and changes; incoming and up-and-coming competitors; a shifting real estate landscape; and balancing that ever-difficult collision of work and life, one thing is for certain… Designbx is no longer a start-up. The two women at the helm of this e-decorating offering are making waves in an industry that has long been plagued by a lack of access for ordinary people. And if it's even possible, they remain more passionate and driven today than when the journey began three years ago. Fuelled by a vision and desire to give every Australian the means to create a home they can be proud of, and a space they want to come home to, Designbx is set for big things – watch this space.
"Great design is a brilliant collection of beautiful ideas"
– M. Cobanli