---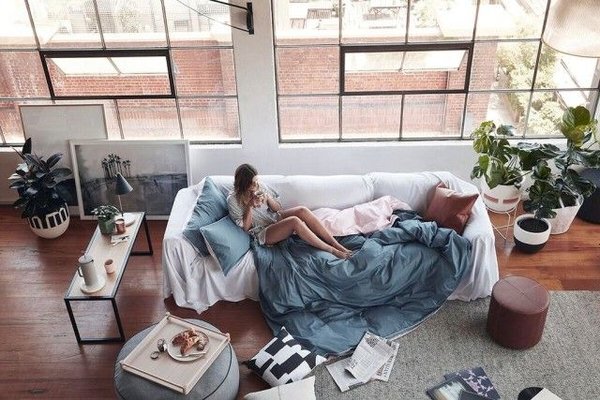 Without lowering ourselves to the use of terms like nudge nudge, wink wink (oh dear, too late), it's obvious the master bedroom is the setting for decadence whether it be intimate moments, post party lock-ins (drawn curtains and movie marathons) or pure unadulterated laziness (mmm, laziness). As long as the kids don't invade your lair, you can enjoy some deserved self-indulgence.
After completing your hectic schedule, the bedroom is your ultimate escape. It only needs to be relevant to you and your partner, which gives you the freedom to express who you are and reflect the room's primary use. We won't speculate as to goings on in your room (we don't judge here at Designbx) but we suggest you select colours, pattern and textures that appeal to your senses.
With that in mind, here are some of our fave brands. What tickles your fancy?
Hunting for George is an adaptable choice that suits most styles, with throws and accessories completing the look. Brand Director Lucy Glade-Wright believes the key to the perfect choice of linen is a style that has longevity. "Choose something that you love and will continue to love years later," Lucy suggests.
The other key factor is colour selection, which is a key consideration for the company's designers. "Colour is like music. It can trigger an emotional response that prompts memories and ideas. Colour is often the first thing we look towards for inspiration," says Lucy.
As for the kids, getting linen selection right can create a captivating world that is comfortable yet stimulating. Be daring, have fun and tap into your child's imagination. You're not the only one who should have a haven that expresses your personality.
Top kids' linen brand, Little Ones, recognises the fact that children are developing their own styles from a young age. The designers specialise in Retro and Modern Eclectic styles with explosive colours and energetic patterns. The wonder of a fair can be enjoyed in the safety of a kid's hideaway.
Cleverly relevant to both genders, Little Ones delivers escapism while optimistic colours create a reassuring environment. A key to the brand's success is meticulous attention to the most important details, ensuring materials are of the highest standards of quality and safety, including being Oeko-Tex certified.
Looking to cut down on shopping time? Kip & Co.'s Boho, Modern Eclectic and Coast styles are designed for everyone in the family. Their bright boutique bedding offers dazzling choices for folks with their eyes on bold choices, and the brand's styles encourage customers to layer and mix patterns.
"The Stardust collection has something a bit fantastical and magical about it," says Hayley Pannekoecke, of Kip & Co. "It's also got a very feminine soft colour palette that works with the season's stone fruit, soft rose, burnt brandy, grape and silver."
They even do bassinet sheets, pyjamas and overnight bags, so Kip & Co. can be on the go with you! For adults and kids alike, it's comforting to connect bedroom styles and adventures in the wide world, especially with beautiful leather or canvas bags. According to Hayley, "They're the perfect accessory for the memory-making wanderer."
Probably the most exciting new arrival to the Kip & Co. range is velvet. Hearing Hayley explain the sensation of sleeping on velvet makes it an easy sell. "Velvet pillows have basically changed my life!" she insists. "There's something about the depth of colour and texture of velvet. As we move into winter, it's the ultimate friend to keep you snug at night."
A 'forward-looking approach' gives the designers an edge, and while they are capable of extravagance and daring colours, customers can also enjoy subtle, muted textures. Experienced globetrotters but proud of their hometown, Aura insists 'yes, it's little bit Scandinavian, a little bit Indian, but it's also a whole lot of Melbourne.'
Specialising in Coast and Industrial styles, Sheets on the Line probably wins the prize for best brand name. The idea for the business was hatched over a cup of coffee in Steve & Deb Clifford-Ames' favourite café. Remarkably, by the end of the day, the light bulb moment had expanded to become a grand scale and vision.
Filling a void left by traditional manufacturers' failure to deliver daring, affordable products, the couple not only provided a vibrant array of alternatives but also provided a more environmentally friendly option.
Like Designbx, these brave businesses are part of the design revolution that gives every Australian an opportunity to express their personality through design. Whether you're creating a stylish boudoir or creating a fun world for the kids, there's no shortage of quality bed linen.
---
Designbx  |  Between the sheets- choosing the right bed linen  |  designbx.com